Paul Korhonen's Story
Why? This is the year I plan to retire after forty years of working in financial services. A big and bold step for a fifty eight year old but it means I will be able to spend more time with my wife and family. More quality time both at home and abroad. I'll also be able to enjoy those hobbies and interests that I just never got time for. However, in those early months of 2012, I had no idea of the events that would unfold and change my whole perspective on life.
A little bit about me first before I continue my story. I live in the north east of England and I spent my childhood years in Blyth which is about twelve miles north of Newcastle upon Tyne. During the whole of my career I have worked in and around the River Tyne and River Tees regions employed by a large global company since leaving school. I met my future wife whilst I was based at their Newcastle upon Tyne office in 1978. She worked for the same company. For me it was love at first sight – this was the woman I wanted to spend the rest of my days with! She lived locally in Dunston, Gateshead and we married two years later in 1980.
In 1983 our only son Christopher was born. Susan gave up work to be a full time mother to Christopher. After he left university he eventually ended up in New York where he met his future wife Katie who is from Alabama. They both work in New York and live in an apartment in Brooklyn with their dog Juno.
Things have changed a lot in the financial services industry over the years as no doubt it has in every other industry. It's not the change but the pace it has been changing at which just keeps accelerating with each passing year. It is like an unstoppable train and you either cling on for dear life or get off at the next station if you can. I have had challenges thrown at me all throughout my career and always faced up to these even when I was often well out of my comfort zone. You learn a lot about yourself doing that and it helped me develop interpersonal skills for those leadership roles I undertook.
My quiet, reflective nature was not always suited to some of the pressures of leadership I faced and I found myself having to adapt my personal style many times. There is no doubt that the older you get the harder it is to adapt to change particularly if it is relentless. I think there comes a time when you start to question that change. In my job the change was implemented by a very autocratic management style at the very top of the organisation, or at least that is how it felt. Many things did not seem logical or pass the common sense test and to question this was seen as being "negative". I have always been positive in my outlook but trying to present some business strategies to your team, when you are not fully on board yourself, was always very difficult for me.
I was in my mid forties when I first started to think ahead about retirement. I formulated a plan even at that early stage. The main concern for my wife and I was financial security. How would we cope?  Therefore our main thrust has been working towards being financially secure to enjoy retirement without any financial worries. Pay debt down and build up savings were the building blocks to achieving that goal. I was lucky enough to be in a good employment pension scheme which I knew would be a great asset.
The target age I set myself early on was fifty eight. By then I would have completed forty years service, maximising my pensionable years, but taking a small financial hit because I was retiring before the age of sixty.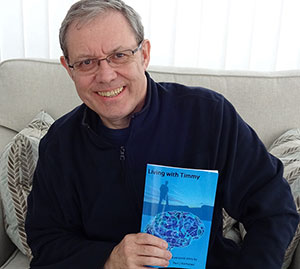 Here I was in 2012. The plan was coming together and this was crunch time. Did I have second thoughts? Would we manage financially? These are the kind of thoughts that must go through most people's minds in the same position. It certainly was a case of do I stay or do I go? You're never quite sure despite all that planning. However, for me it was an easy question to answer. In early June I handed in my notice of my intention to retire at the end of September. It was the start of a bright new world!
You can read Paul Korhonen's, reflective, touching and very human story in full in his new book, 'Living with Timmy', available on Amazon:
http://www.amazon.co.uk/Living-Timmy-Paul-Korhonen-ebook/dp/B01CAJ1FIE/ref=tmm_kin_swatch_0?_encoding=UTF8&qid=1457378725&sr=8-1
With brainstrust, you are never alone. Click here to get in touch with one of our trained volunteers who has been through the same experiences you are going through.