Why we're here
More than 60,000 people in the UK are living with a devastating brain tumour diagnosis. 40% of all cancers spread to the brain. It is the most the most common form of cancer in people under 40. But these facts don't help you when you hear the words "you have a brain tumour".
A brain tumour diagnosis brings with it the double impact of a cancer diagnosis and a progressively debilitating neurological disease. The treatment is complex and harmful; and diagnosis brings with it fear, isolation, disempowerment and a loss of control. This is where we help.
What we do
brainstrust is here to help you live life with a brain tumour. We know that when you hear the words "you have a brain tumour", you need support from people who not only understand the fear, confusion and isolation, but who can empower and resource you to overcome it.
Our support is available to everybody affected by any type of brain tumour.
We provide personalised 24/7 support from the point of diagnosis and build resources that help people with a brain tumour to become stronger. We also work with people in the clinical setting to secure the best care possible for people with the condition. And because we truly understand the challenges faced by the brain tumour community, we're able to campaign to solve real issues.
We're here to help you live better with a brain tumour. 
Feel more supported
Evidence shows that when we are no longer able to change a situation, we are challenged to change ourselves. You are the person who is ultimately going to have the greatest impact on your life.
All our support specialists are trained coaches. Coaching focuses on understanding your personal priorities and developing strategies and clarity to achieve a better quality of life. We don't give advice, because we understand that every situation is unique. What we do is help you work through the biggest challenges of life with a brain tumour – and you can access this support through our 24/7 helpline, or email support from your local support specialist.
Become part of a community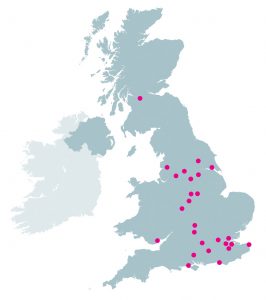 We run Meetups and workshops nationwide so you can connect, learn, feel less alone, less afraid and better support. Last year we held 47 events across England, Scotland and Wales.
Our Facebook group is a hub where everybody affected by a brain tumour can come together online to seek advice, solace or just to share emotion in a safe, comfortable and easy to access community.
We have regional support specialists who can offer personalised, regionally relevant support because of the links they have fostered in their respective communities for the people they serve. They have built strong links with the clinical teams in their regions, and will be able to signpost you to the most relevant services for you.
As well as speaking to your local support specialist, you can use our brain tumour hub to search for support near you, just by entering your postcode.
Engage with research and your clinical care
We represent the patient and public voice in neuro-oncology, in national bodies including the National Cancer research Institute, Cancer Research UK, the National Institute of Health Research, National Institute for Health and Care Excellence, Cochrane, Public Health England and the NHS.
We hold a privileged position in these spaces, and will always share with you the latest in research – explaining not just the headlines, but what this actually means for people living with a brain tumour.