Navigating your pathway
Living with a brain tumour is bewildering, isolating and scary. We know. We know too though how empowering it can be to have the information that you need at your fingertips – it can transform the feeling of control that you have, whether you are a patient or a caregiver.
On this page you will find:
Brainstrust really fills a niche in the 'market'. There is no other source of advice or information on navigating the Primary and Secondary Care systems and, most often, this is what patients need. Thank you!
Patient, Hull
There are key things you should be doing that will help. One is to keep records of everything (our patient folder which comes with our brainbox helps here) and the other is to always get a copy set of your MRI scans. As a patient, this is your data – it belongs to you. Ask your imaging department for a copy set.
A typical pathway looks like this:

But nobody is 'typical' – and when you add in the fact that there are many different types of brain tumours, all of which have different prognoses and their own idiosyncracies, this kind of pathway is only ever going to be big picture.
So use our patient guides to help you navigate. This is the only comprehensive, easy to understand guide of the adult brain tumour pathway. They will help you to know more about what to expect so that you can feel more in control. Written alongside leading clinicians, expert patients and caregivers, and in accordance with NHS England's Information Standard, this is an invaluable resource.
And of course, for those particularly thorny questions you can always email hello@brainstrust.org.uk or call 01983 292405.
The Neuroscience Multidisciplinary Team (MDT)
We're great believers in knowing the big picture, then you know what your options are. Equally, though, we know that not everyone wants to know about their diagnosis. Everybody has a different way of dealing with an illness. So this information is for you to use – or not. It's up to you.  And of course, even if you have made a decision, you can always alter course. Having a route mapped out doesn't mean that you have to stick with it. Once your brain tumour has been diagnosed your case should be discussed at a multidisciplinary team meeting (MDT meeting). A key recommendation of the NICE* 'Improving Outcomes Guidance' is that:
The care of all patients with brain and other central nervous system (CNS) tumours should be coordinated through a specific model of multidisciplinary assessment and care:
a designated lead in every acute trust
a neuroscience brain and other CNS tumours MDT
a cancer network brain and other CNS tumours MDT
a key worker
As a number of options will be available for your treatment these meetings are very important and should be the minimum which you can expect. The MDT meeting will enable your case to be discussed by radiologists, neurosurgeons and oncologists. They will the best pathway for you.
Treatments will depend on the type and grade of brain tumour. The most common forms of treatment are:
Watch and wait
Surgery
Drug therapy (chemotherapy, immunotherapy, gene therapy)
Radiotherapy
Combined chemo/radiotherapy
Best supportive care
Your treatment plan will either be radical and/or palliative:
Radical: In some cancers the intent is to cure. For brain tumours the aim is to stabilize the disease with best standard treatment which currently is a combination of radiotherapy and oral chemotherapy.
Palliative: The intent here is to relieve the symptoms when a cure is not possible. Sometimes it is better to look after the symptoms because to deal with the cause may be too damaging.
However, it would be nice to think that you might be included in these decisions too! So these are the things that you should consider, to make sure that your care pathway belongs to you and not the MDT:
Your wishes regarding your treatment
The type of tumour
Where it is located
The size of tumour
The risks and potential benefits of available treatment options
Your overall health
Your age
The type of healthcare services available and your ability to travel
What other options are available outside your locality, even country
The best practice should look like this, so that you don't become 'lost' in the system:
Brain and other central nervous system (CNS) tumours patient pathway: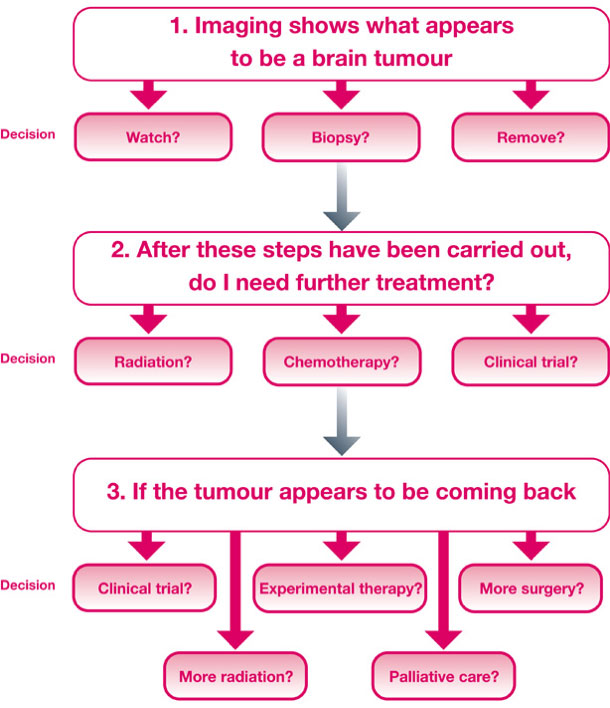 Healthcare professionals should have face-to-face communication with patients, their relatives and carers at critical points in the care pathway to discuss diagnosis, prognosis, treatment options (including no treatment), recurrence and end-of-life care. (NICE Service Guidance June 2006).
No doctor will ever be able to give you the definitive answer and don't believe the doctor that promises you the earth. 'Find the one who views your glass as being half full – and believes that with the best treatment you will do well'. Dr Peter Black: Living With a Brain Tumour.
The neuroscience MDT should meet at weekly intervals to review all new patients and advise on the initial management of their disease in accordance with national cancer waiting times standards (NICE Service Guidance June 2006)
Staff working in multidisciplinary teams are likely to develop higher levels of knowledge, skills, expertise and experience because they share their thinking. This means that higher quality outcomes are assured. There will be a range of healthcare professionals at a MDT meeting, and at the moment the set up may be different in different geographical areas, depending on the resource available.
Core members of the neuroscience MDT include:
| | |
| --- | --- |
| MDT member | Description |
| Neurosurgeon(s) | A specialist neurosurgeon who spends at least 50% of clinical programmed activities in neuro-oncological surgery and is regularly involved in dedicated speciality clinics caring for these patients. |
| Neuroradiologist | A consultant radiologist with at least 50% of clinical programmed activities spent in the practice of neuroradiology. |
| Neuropathologist | Registered as a Neuropathologist or histopathologist and has specialist expertise in neuro-oncology.. |
| Neurologist | A consultant neurologist with expertise in neuro-oncology, epilepsy or neuro-rehabilitation. |
| Oncologist | A clinical oncologist with a special interest in tumours of the CNS |
| Clinical nurse specialist | A nurse with specialist knowledge of CNS tumours and skills in communication |
| Palliative care | A healthcare professional (normally a member of the palliative care team) with experience and expertise in the provision of palliative care services for patients with CNS tumours |
| Neuropsychologist | A clinical neuropsychologist with a special interest in tumours of the CNS |
| Specialist allied health professionals (AHP) | Representative of AHPs, including occupational therapy, physiotherapy, speech and language therapy, dietetics and others as appropriate, who have knowledge and experience of dealing with the patient group, with responsibility for education and liaison with other local AHPs |
| Coordinators | An administrative post responsible for coordinating patient registration with the neuroscience MDT and data collection |
| Others as required | E.g. representatives from ward nursing, community palliative nursing, psychology/psychiatry and epilepsy nurse specialists |
For more information about some of these professionals have a look at our "Have you lost your way booklet".
The website you have prepared is impressive and very helpful to many of those struggling with their diagnosis and treatment.
Professor Roy Rampling, Glasgow
Resources used to write this information:

brainstrust patient/carer representative
Consultant Neurosurgeon
Clinical nurse specialist
National Institute for Health and Clinical Excellence guidelines – Improving Outcomes Guidance Brain and CNS Tumours 2006
Living with a Brain Tumour  (Peter Black) 2009
Fast Facts – Brain Tumors (Abrey and Mason) 2009
Primary Central Nervous System Tumors – pathogenesis and therapy (Current Clinical Oncology, Humana Press 2011

Date published: 17-05-2009
Last edited: 31-08-2017
Due for review: 31-08-2020