Peer support for people affected by a brain tumour
Go from lonely to listened to. With peer support, you don't have to face your brain tumour journey alone.
Why peer support?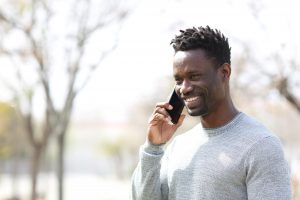 At brainstrust we don't underestimate the value of talking to someone who has had a similar experience. Our community overwhelmingly reports that a brain tumour diagnosis is frightening, isolating and bewildering. Talking to someone who has already been through the same experience can help to reduce the isolation, make sense of what is happening, and reduce the fear of the unknown.
The aim of our peer support service is to directly connect you with a Peer Supporter in order to help you feel better understood and supported. Peer supporters are trained volunteers who have been through a similar experience to you – whether you are the patient or caregiver.
How does it work?
If you'd like to talk to us about peer support please give us a call on 01983 292405 or email us at hello@brainstrust.org.uk. You will be contacted by your local support specialist who will ask you some questions to help match you with the right person.
We do our best to find a suitable Peer Supporter for you, but occasionally this isn't always possible. Where this is the case, we will always work with you to find the right solution.
"I actually can't tell you what a relief I feel having someone to let off steam to that is removed from the situation but is also sensible and understands. I actually can't thank you enough."
Would you like to help someone in a similar position to you as they face up to the challenge of a brain tumour diagnosis?
Please call us on 01983 292405 or email us at hello@brainstrust.org.uk.
More ways to connect with others and become part of a community
You can meet other members of the brain tumour community at our virtual meetups and Thrive events.
"The brew with brainstrust was amazing. I didn't know anyone else with similar problems to mine before. I am so happy to chat with others, exchange feelings and experiences. I know now there are others who have survived the trauma of learning we have something unusual in our brains and to accept it and learn that we can live with it."
The brainstrust Facebook group is also a safe place to ask and answer questions, share your experiences and seek and offer mutual support.
"I joined the Facebook group and it's community makes me feel not so alone anymore. Just knowing that there is a place where I can go to for advice and support if and when I need it is so comforting."
Did this information make you feel more resourced, more confident or more in control?