Money matters
As if you haven't got enough to worry about. Having a brain tumour will, at some point, impact on you financially as well as physically and emotionally. The same guiding principle applies – look this tiger in the eye. The more prepared you are, the better you will be prepared if you need additional financial support. It's much better to be proactive, than reactive. The good news is that there is a wealth (pardon the pun) of support out there.
Our Money Worries Know How is a great place to start.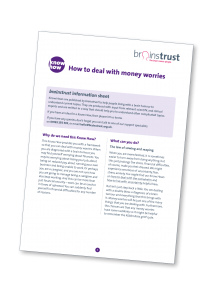 Too much to take in? Give us a call on 01983 292 405 and we'll talk you through it.
On this page you will find:
The brain tumour hub
Firstly, have a look at the finance section of our brain tumour hub, where lots of useful financial services are listed. Click here to use this online tool.
Benefits and finance

Our Finances and benefits Know How outlines benefits you may be entitled to.
Call Macmillan Support Line 0808 808 00 00. The welfare rights service is available to anyone who calls the Macmillan Support Line.
Contact your local Macmillan information and support centre. Your local information and support centre may have advisers who  can help you identify the benefits you are entitled to and help you with filling in forms. Search for support in your area to find your nearest centre.
Help with the Cost of Cancer is an excellent booklet, published by Macmillan. It provides information about all of the different kinds of help available for people with cancer. Download it here.
Contact your local Maggie's centre. Maggie's have Benefits Advisors who can tell you what you're entitled to, help you fill out forms and support you through the application process. Their support is free. You can find your nearest Maggie's centre here.
Contact Citizens Advice. Citizen's Advice offers confidential advice online, over the phone, and in person, for free through their national charity and network of local charities. Find out how to get in touch.
A Guide to Grants for Individuals in Need (Directory of Social Change ISBN: 1-903991-52-8) is a directory published each year of over 2000 charities and trusts that will provide financial help to people in need. It may be available at your local library.
Independence at Home is a Trust which will make grants towards any expense which is not covered by statutory provision and which is related to the needs of a person living at home with a disability. Find out more here.
Turn2us is a national charity providing practical help to people who are struggling financially. Their website has a benefits calculator which allows you to see what benefits you may be entitled to as well as a grant search function. Find out more here.
Travel insurance
If you have a health problem, such as brain cancer, you will probably find it tricky trying to get travel insurance. You should always be honest about your condition; if you aren't and then you claim, the policy will be invalid.
There are options and you will need to set aside some time to find the best policy. You will be asked for loads of information, so put the kettle on and settle down with a cup of tea as you make the call. You will be asked the following:
Personal information – names, ages, contact information
Your travel plans – where, when and for how long
Medical information – be prepared to talk about your diagnosis, treatment, medication, when you last saw your GP, symptoms
There is a comprehensive list of travel insurance providers (who we know patients have used) at www.braintumourhub.org.uk
Financial help with medication
Sometimes when living with a brain tumour you are automatically entitled to free prescriptions. And sometimes you can apply for certificates that entitle you for free medication. Some prescribed items are always free (such as medication given to hospital inpatients). You can find more information about free prescriptions here.
You can find more information about medical exemption certificates here.
And of course you can always call brainstrust on 01983 213405 or email hello@brainstrust.org.uk
Did this information make you feel more resourced, more confident or more in control?

Date published: 17-05-2009
Last edited: 31-08-2017
Due for review: 31-08-2020