Leanne's Story
Leanne's brain tumour was diagnosed incidentally when she had a fall in 2006 and suffered a concussion. After a routine CT at A&E, she was told a mass in her brain had been found.
"I was in hospital on my own, as a single mum and was in total shock"
Leanne's hospital completely misdiagnosed the tumour as they had no neuro-specialists on that night. They sent her home with little information, only advising she see her GP the next day. Not satisfied with this, she took action herself.
"I was lucky enough to know someone at Kings College Hospital at the time in the Neuro department and went straight in for an MRI the next day. They confirmed it was a tumour of some kind but a rare one.  I suppose the truth is I felt angry. I had lived such a healthy life, I just wondered what I had done to cause it. I now know nothing… but it's hard not to try and find a reason"
Unbelievably, 6 weeks after her diagnosis, Leanne's mum (who lives in New Zealand) also had a fall, a routine CT scan and was too diagnosed with a brain tumour. Although a complete coincidence, Leanne still finds this finds hard to come to grip with.
"My mum now has alzheimers and is very sick and her tumour just sits there without anyone assessing it as she is in no condition for even an MRI scan"
This gives Leanne even more reason for wanting to help brainstrust and brain cancer support in general.
Surgery
There were two different neurosurgical options for Leanne. One surgeon wanted to remove the tumour straight away, due to their lack of understanding of its type, and the second who wanted to monitor it, as she was asymptomatic, and surgery held greater risks than the tumour itself at that time.  She chose the latter, avoiding the surgery as she had no family in the UK and was a full time working, single mum who was petrified of where surgery could leave she and her daughter.
"My Neurosurgeon is an amazing man called Chris Chandler and I am very, very lucky to have met him. Well – I'd rather never have needed to meet him… but as that choice was out of my hands… I knew I was in the best care possible"
Between 2006 and 2011 Leanne's tumour, which they thought was an epidermoid tumour attached to her frontal left lobe, did not change or grow. She had really started to believe it would stay that way forever as this was one of the possibilities Chris had presented. She had yearly MRI's and clinic appointments and just got on with life. At her 2011 clinic appointment, she was even told by a registrar who saw her (the only time that she didn't see Chris) that she could should be signed off next year as the tumour wasn't growing.
But, she wandered into her 2012 appointment to see Chris, with no concerns, only to be greeted by a scan that showed growth and a completely different looking 'beast' on the screen.
"Lost for words doesn't come close. Chris was very angry that I had been misled and said I should never have been told I would be signed off. Watch and wait had changed and now the chance of needing surgery was very high. I was still in the very lucky camp though. It was only growing slowly. But my ability to put it to the back of my mind had changed. I felt so unbelievably sad. Mentally – I had never thought this would happen, but now time was ticking. When you're told that you'll be assessed at the next appointment, but to come straight back in if you have any seizures of personality changes, you're hardly filled with glee! They just didn't know how to classify my tumour and it wasn't clear enough on the MRI. Just another reason why we need more research!"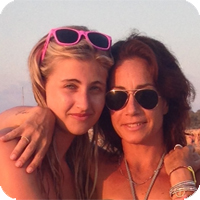 At her next appointment, Chris explained that the tumour needed to come out and then talked Leanne through the craniotomy.
"It felt surreal and for someone who never shuts up… I think I barely uttered a word. Weirdly, all I could think about was my hair being shaved… in fact that's all I could focus on. I realise now that is just human nature, especially for women – the much bigger things were impossible to compute… except how to tell my 13 year old daughter. We are so close and it was incredibly hard for her"
After feeling let down by the lack of support on this score, and feeling unable to properly broach the subject herself, Leanne turned to brainstrust. She contacted Meg who then spoke to Leanne's daughter Bella on the phone, and explained and reassured her about the operation. This was a blessing for Leanne.
Regaining Control
Leanne had some time off before surgery to sort out her personal life, as she had no close help except friends and a child who was 100% dependent on her. She had worked in fashion all of her life, but was at that time working in a very demanding role at Coutts bank as a luxury consultant.
Just after being told that she needed the operation, she had the head shaving discussion. Leanne was introduced to a Macmillan counsellor at Kings who had been trying help female chemotherapy patients cope with the effects that hair loss had upon women's confidence.
"I wanted to do something to help, using my connections in fashion and get the bank to fund it. For the next 12 months and all through my operation and recovery I put together a project called Crowning Glory by Coutts. I had Coutts put up all the money, had Stella McCartney design some beautiful headscarves and I produced the scarves in Italy so they were the highest quality possible. We supplied a free headscarf to every single chemo patient at Kings College Hospital for a whole year. It was the most rewarding project of my entire career and in December 2013 (4 months after my op) I put together a launch event at The Macmillan Centre at Kings. We invited patients to an evening where they were taught ways to style their scarves, had Benefit help them with their makeup and new eyebrow techniques and also I arranged for a leading cancer nutritionist to chat to them. It was one of the most extraordinary nights of my life. It was a place patients could share their stories, feel part of something that was there to make them feel good and build their confidence. Confidence is such a huge factor in our coping through this journey – it gives us strength"
Life Now
Leanne's operation was a success. Her tumour was in an operable position and her neurosurgeon believes that he has resected pretty much all of it. Pathology showed the tumour was completely different to what they had initially thought though. It was a DNET, a very rare tumour in adults, one that is hard to access information about and one that she probably had since teenage years.
Currently, Leanne has yearly scans to see whether the tumour decides to grow back. If it does – she's been told it should be slow growing, but at some point may need surgery again.
"Although that is a very good prognosis compared to many and most of the time I can bury it, it still has the ability to keep me awake at night. I know how lucky I am but I am determined to make a difference for those less able to get up and shout loudly about greater awareness, more funds, more research and better care of patients when they really need it"
Leanne has always been a health and fitness enthusiast, using exercise to get her through the toughest times.
"It's my therapy and makes me feel like I am taking some control of my own journey. I do a lot of research into diet and fitness and how it can benefit cancer patients and I also want to bring some of this knowledge to the BT community. I have been a runner all my life and was determined post my operation to get back out there as soon as I could. Every day after the surgery I walked a little bit further and I was back out running 3 weeks post my op. I took it slowly but it really helped my mood elevation because of the endorphins and helped me sleep and recover faster. I pumped myself full of fresh veg juices and had done a lot of reading about anti -inflammatory foods. All of this really helped me and still does"
This summer Leanne is planning on running the British 10k for brainstrust, alongside her closest friends. You can read about Leanne's plans here.
With brainstrust, you are never alone. Click here to get in touch with one of our trained volunteers who has been through the same experiences you are going through.