Downloads and resources
brainstrust resources are designed to help you feel more informed, in control and engaged with your care, no matter where you are on your brain tumour journey. Here you'll find links to download our resources and request a brain box. If you'd like hard copies rather than downloadable versions, please email hello@brainstrust.org.uk
The brain box
The brainstrust brain box is a must have support toolkit for people with a new brain tumour diagnosis and their caregivers. Fully customisable, with resources relevant to your unique situation, the brain box also comes with treats like teabags and self-care items to remind you to take time to look after yourself.
The brain tumour patient guide
The 2018 brain tumour patient guide is freely available to brain tumour patients and doctors and nurses working in relevant specialties. It explains the care you should be getting, as suggested by the latest NICE guidelines.

Find out more and download the guides
The brainstrust support catalogue
The brainstrust support catalogue takes you through the various ways brainstrust can support you. It's a great starting point to find out more about what we do and how we can help you.
My radiotherapy book
If radiotherapy is a potential treatment option for you, or you have recently had radiotherapy, then this resource will help you understand the treatment and feel more in control.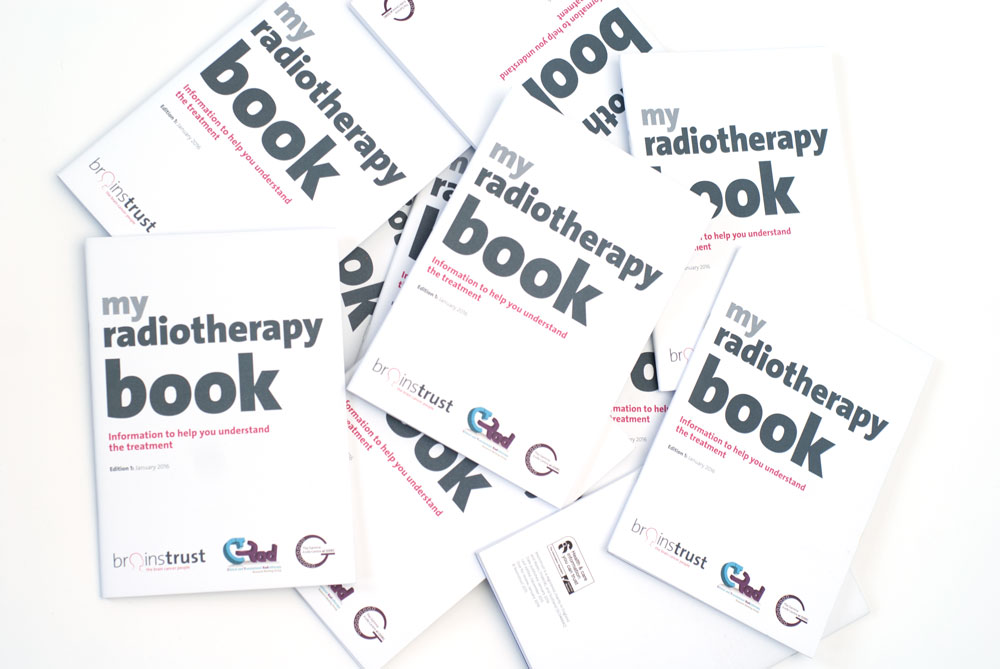 Up to 60% of people diagnosed with a brain tumour experience BPC, and until now there has little support available for this.
Click here to download the behaviour and personality change resource, and download a mood journal template here.
The little white book
A comprehensive, easy to navigate compendium of UK brain tumour support resources. You can access an online copy through our online catalogue with www.issuu.com/brainstrust.
We also produce regional editions of 'The Little White Book', signposting all of the best support available to you, wherever you might live. We currently have guides for Sheffield, Merseyside, Greater London, South East Scotland, Glasgow, Greater Manchester, Tees Valley and the surrounding areas, Aberdeen, the Highlands and surrounding areas, and the North West (little brainstrust).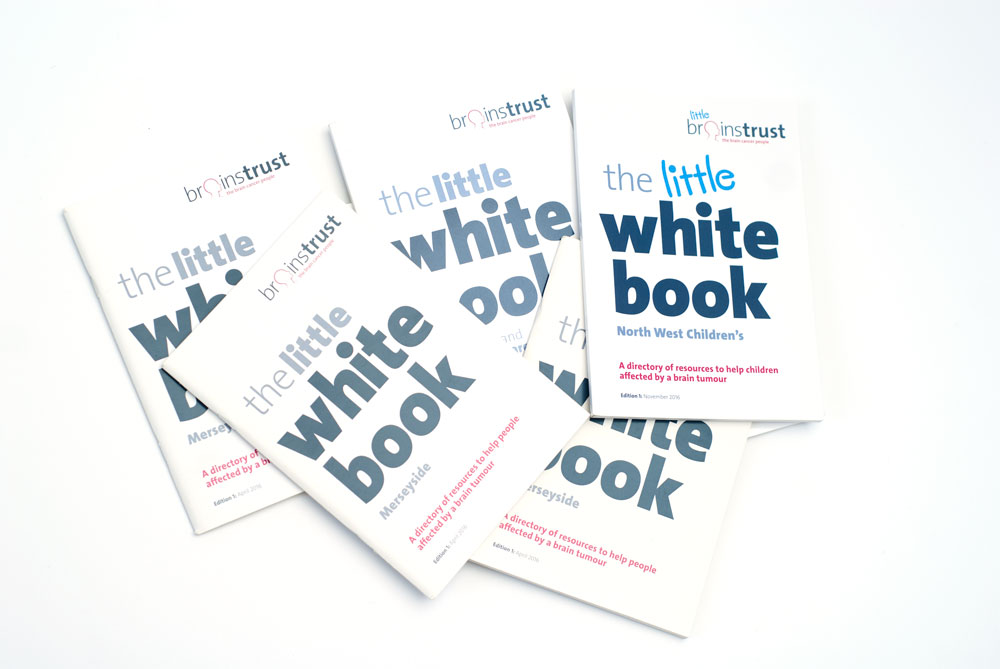 Brain tumour know hows

When it comes to brain tumours, accessing simple, factual information can be difficult. There is a great deal of conflicting information available that can leave you feeling confused and overwhelmed. Brain tumour know hows help you access concise, clear and impartial information about relevant topics like Cannabinoids and the Ketogenic diet.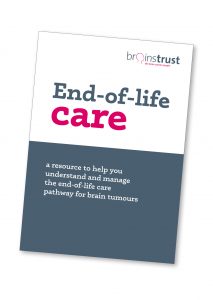 This resource has been produced with people who have the lived experience of what it is like to care for someone with a brain tumour at end-of-life, with leading consultants in palliative care and clinical nurse specialists who are hospice-based.
It covers all aspects of what dying with a brain tumour entails. This resource provides information on good end-of-life care, how to achieve it, who can help you and how to ensure that you are being informed and making the right decisions that are personal to you. It will take you through options for stopping treatment through to looking at making decisions for where the patient wants to die. Having as much information to hand as possible allows you to be in control, certain that you are making the right decisions for those concerned.
Did this information make you feel more resourced, more confident or more in control?
Subscribe to our mailing list to hear about all the latest news, events, research and resources.
Coaching with brainstrust
Coaching with one of our support specialists can help you understand what's important to you. We listen and ask questions, collaborating with you to create a plan to reach specific goals.