There are over 60,000 people in the UK living with a brain tumour. 30 more get diagnosed every day. From the most lethal brain tumour, a glioblastoma, to the long-term complications that come with a meningioma, every diagnosis changes someone's life, and the lives of their loved ones.
Choose Grey. Change Lives.
Every year on 1st October, we wear grey – the internationally recognised colour for brain tumours – to give visibility to this invisible illness. People from across the UK come together to wear grey and show their support for people like Georgia*, who are living with a brain tumour.
"Each day I put on my brave face. I bury my fears, try to continue as 'normal'. I am a wife, a mother, a daughter, a sister, an employee. I am surrounded by many, yet I feel so alone. I am lost" Georgia
This year, it's never been easier to get involved. No matter who or where you are, you can take part in Wear Grey in three easy steps.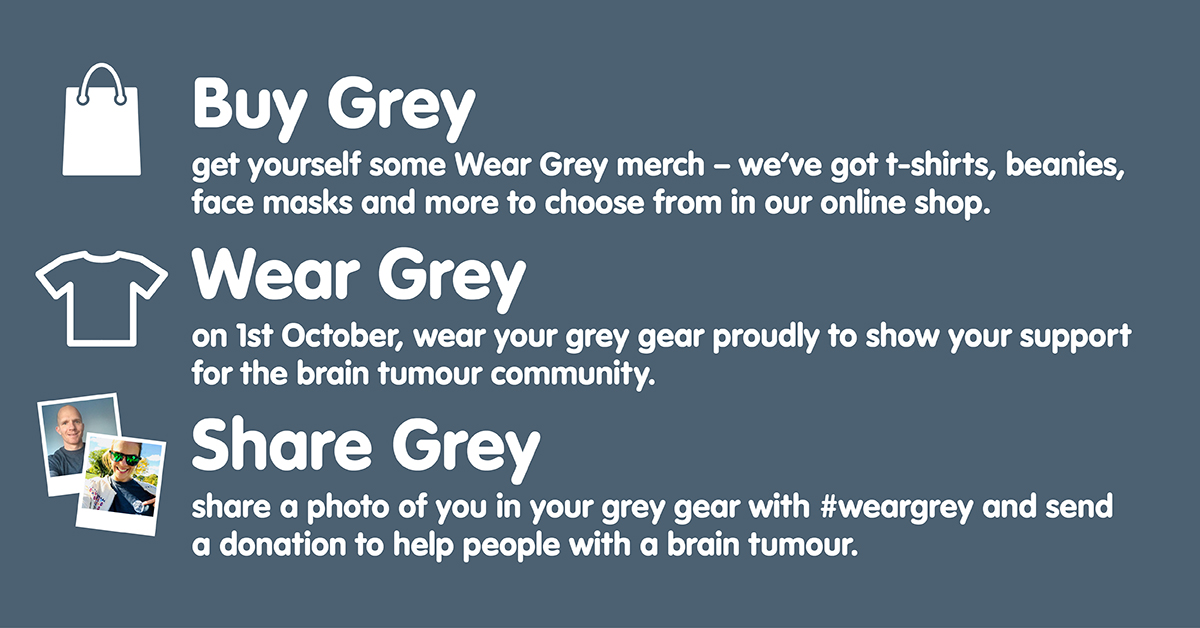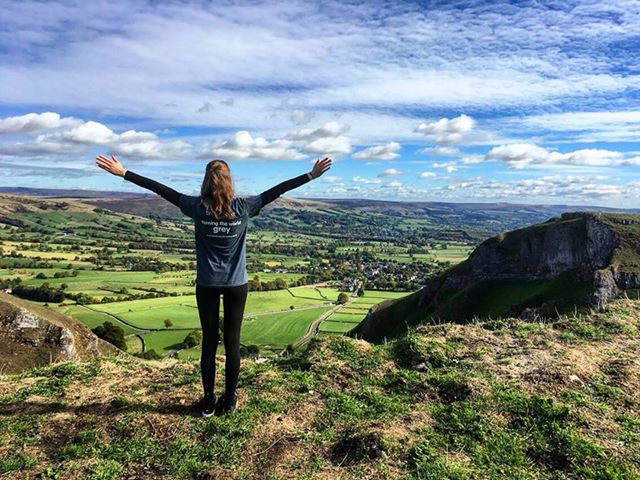 Living with a brain tumour in lockdown – why we wear grey
This year has been unlike any other, but brain tumours didn't stop for Coronavirus, and neither did we.
30 people are still being diagnosed with a brain tumour every day. In a world that has been more isolating than ever, people have been alone when they find out they have this devastating illness. People have been unable to visit loved ones in hospital. Necessary shielding has prevented precious time from being spent with family and friends. People with a brain tumour have suffered two-fold, and that's why it is more important than ever that specialised, dedicated support is available for them and their loved ones.
We've been working round-the-clock to keep our support going. We're there for people when things are scariest, and we'll be here every step of the way on their journey. Making sure they can have their best possible day, whatever that looks like for them. Through our coaching, workshops and resources, we are tackling isolation and building communities for people with a brain tumour.
"Thank you to all who run the webinars, I gain so much. From learning and understanding, to having a welcome break from reality and being able to be part of a community where we can relate to each others' experiences"
So when you choose grey, and donate to brainstrust, you really are changing lives.