The Brain Tumour Tissue Campaign
If there's one thing that researchers need to find a cure for brain tumours, the cure we all want, it's a sample of your brain tumour.
Did you know that if your brain tumour is surgically removed, you can have some of it donated for research? The brain tumour that causes isolation, fear and confusion could do something positive. It could help prevent people in the future from having to go on the terrifying journey that you have.
Today, there's not enough brain tumour tissue with consent for researchers to do their work. Although it is removed everyday by surgeons, it is estimated that around only 30% of patients are consenting for their tissue to be used in future research. This number should be closer to 80%. With your help, we'll get there.
Why aren't people consenting?
With so much focus on helping you get back on your feet, consent to use your brain tumour in the future isn't always sought. Likewise, Health Care Professionals are uncertain about the best time to mention tissue donation to their patients, meaning that these important discussions often never happen.
Change this. Ask about tissue donation today.
To save lives in the future, please think about donating your tissue to research today.
All you need to do for this to happen is to start the conversation with your Neurosurgeon. Ask your them about the consent form at your next appointment.

To help you out with tackling the subject, download and print out either of these leaflets, have a read, and hand the card to your medical team – this will start the conversation. This easy step could save thousands of lives in the future
The Brain Tumour Tissue Campaign: for Clinicians
We want to help you. Seeking consent should be an easy process and could be standard practise. If you have challenges with your consent process, or any general questions about tissue banking, please get in touch and we can link you up with someone who's been there. You can also use and adapt these forms to suit your needs (courtesy of North Bristol NHS Trust):
We can also share with you some of the pathways currently used to obtain consent for use of brain tumour tissue in future research: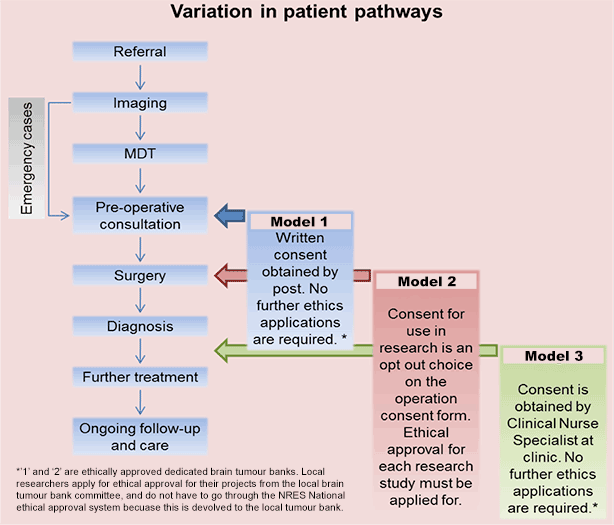 The Brain Tumour Tissue Campaign: partners
This campaign has significant support. We are working together to make sure that more brain tumour tissue is consented for use in research.


We are very lucky to include in our list of Campaign Patrons:
Stephen Venables - Famous British Mountaineer, first British person to summit Everest without supplementary oxygen, whose son Ollie sadly died with a brain tumour www.stephenvenables.com
Dr Kathreena M Kurian BSc, MD, MBBS, FRCPath (Neuro) Consultant Neuropathologist and Honorary Senior Lecturer, Southmead Hospital, Bristol
Prof James AR Nicoll BSc MBChB MD FRCPath Professor of Neuropathology and Honorary Consultant Neuropathologist, University of Southampton
Claire Bullimore - brain tumour patient advocate, broadcaster, speaker and founder of Aunty M brain tumours.
The Brain Tumour Tissue Campaign: news