Meg's story
A week before her 19th birthday, on July 22nd, 2004, Meg was admitted to A and E having lost consciousness at work. When she came round, she had no recollection of what had happened to her, nor what she had been doing for the previous few days. Work colleagues who were with her at the time described her symptoms and it sounded very much like she had had some form of seizure. Suddenly, all those little 'odd' things that had happened to her over the previous twelve months took on a new significance - the inexplicable car crash that we put down to mechanical failure, the 'flashy eye' that we thought was maybe migraine, the early morning nausea that she had had for several months when she was 15, the forgetfulness that was just so not Meg. She was always the reliable child - ask Meg to post a letter and you knew it would be posted. Not any more.
It transpired that this also was not the first seizure Meg had had - she had a couple of others when travelling abroad in her gap year, but didn't think anything of it. Meg just thought that this is what happened to Meg - it was normal and that maybe eating more chocolate would solve the problem.
Not to worry - people often have a single seizure and that's the end to it. But this was more than one seizure. So an MRI scan was booked for the end of August, and another one in October . . . and in February. The August scan told us that there was an abnormality in Meg's brain; this confirmed what her older brother had been saying for years! The October one told us more - that she has a brain tumour, that it is in 'tiger country' and that the 'enhancement' of the tumour was cause for concern. What did this mean? It means that, of the various types of primary malignant tumours, Meg's tumour was low grade. Each type is graded on a scale 1-4. Grade 1 and 2 tumours are said to be 'low grade' and grade 3 and 4 'high grade'.
The first priority was to get some sort of stability back into Meg's life and to sort out some medication to control her seizures - the symptoms. Finding medication that suits her took the best part of two years and we aren't quite there yet. The first medication she was on put her back in hospital as it caused toxicity. She was due to begin a new life at Warwick University and she wasn't going to let the small issue of a brain tumour put a halt to this. So her first year became a year of trial and error; learning to live with her symptoms and establishing herself at Uni, whilst at the same time finding that her independence was gradually being eroded as she couldn't lead the life she had been used to. Not once has Meg railed against this situation. Yes, there have been the panicked phone calls when maybe she has seen misleading things on the web that she shouldn't have seen, or when she has taken too much/too little medication because of her difficulties with memory, or when she has felt really poorly so we have gone to fetch her. But we've had it easy. We've been so humbled by the courage of this gorgeous young lady, who never thinks of herself, only about the impact that this is having on those around her.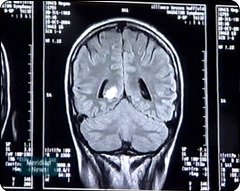 Dealing with the cause was going to be much trickier. If the tumour had been anywhere else in her brain it would have been removed immediately. It's a long story and one we'll save for another page, but via couriering her scans to Rabbi Firer at the
Ezra Le'marpeh Centre
in Israel, who then sent them to the US, we found a solution. Meg completed her history of art degree (the lengths she went to to miss her last two exams!) and flew to the
Brigham and Women's Hospital
where Professor Black successfully removed her tumour using intra-operative MRI scanning.
It was a long day –
read Meg's Boston Blog to find out what happened
And so our journey is almost over. I say almost. Two years on (almost to the day!) Meg's latest scans show a healthy brain. She came back two weeks after her surgery, embarked on an MA the same autumn, which she successfully completed a year later. She has just married to Josh and has also been diagnosed with neurofibromatosis 1. So our journey is not over yet. We can't see the end; we don't know how many twists and turns there will be on the way, but we do know that this has been a huge learning experience for us and that we are growing in strength as we travel together. We also know that it has a happy ending.