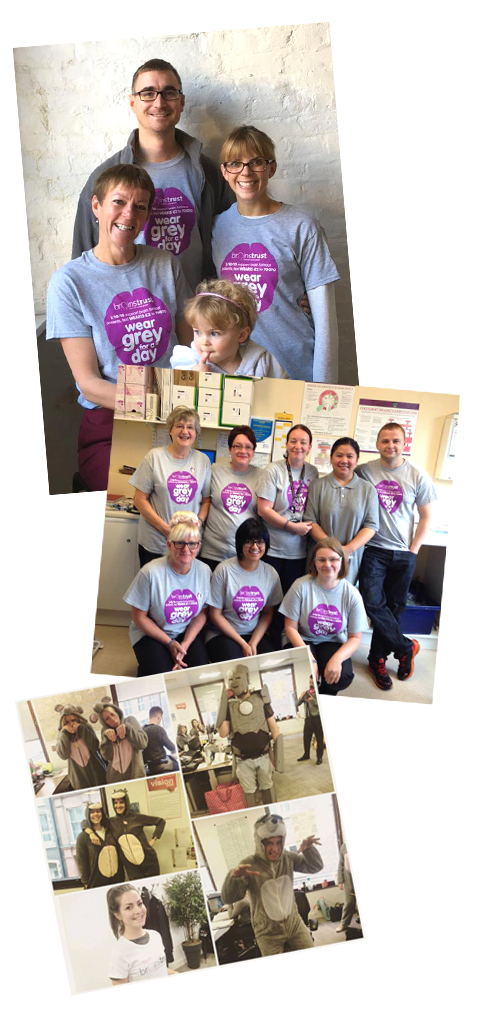 Well, Wear Grey 2015 was a roaring success.
Throughout the day we saw the world turn grey for brain tumours.
Grey was worn in homes, in schools and in workplaces. People got involved in the UK and overseas. And stories and reasons for wearing grey were shared and those no longer with us were remembered. It really was incredible.
Thanks so much to all of you who put on your grey and made a stand for brain tumours.
Together, we made the world notice.
Click HERE to see some of the pictures from the big day.
Wear Grey might be over for another year, but there's still chance now for you to help us support more people living with and beyond a devastating brain tumour diagnosis. There are a few simple ways you can make a vital donation:
Make a donation via online bank transfer-
Make a payment using your bank's Internet Banking service direct to our charity bank account: Send your amount to b

rainstrust

, sort code 08-92-99, and account number 65204003.
Send a cheque to HQ
Simply post your cheque to:

brainstrust

, 4 Yvery Court,
Castle Road, Cowes, Isle of Wight, PO31 7QG
And remember to Gift Aid your donation
Filling out this one simple form can add 25% to your donation!
All that's now left to say is bring on Wear Grey 2016!
Thanks so much again. The brainstrust team xx