Three of our amazing supporters Steve Gore, Innes Taylor and David Hamlett decided they wanted to do something HUGE for brain tumour support, as they all have friends who have been affected by a terrifying diagnosis.
T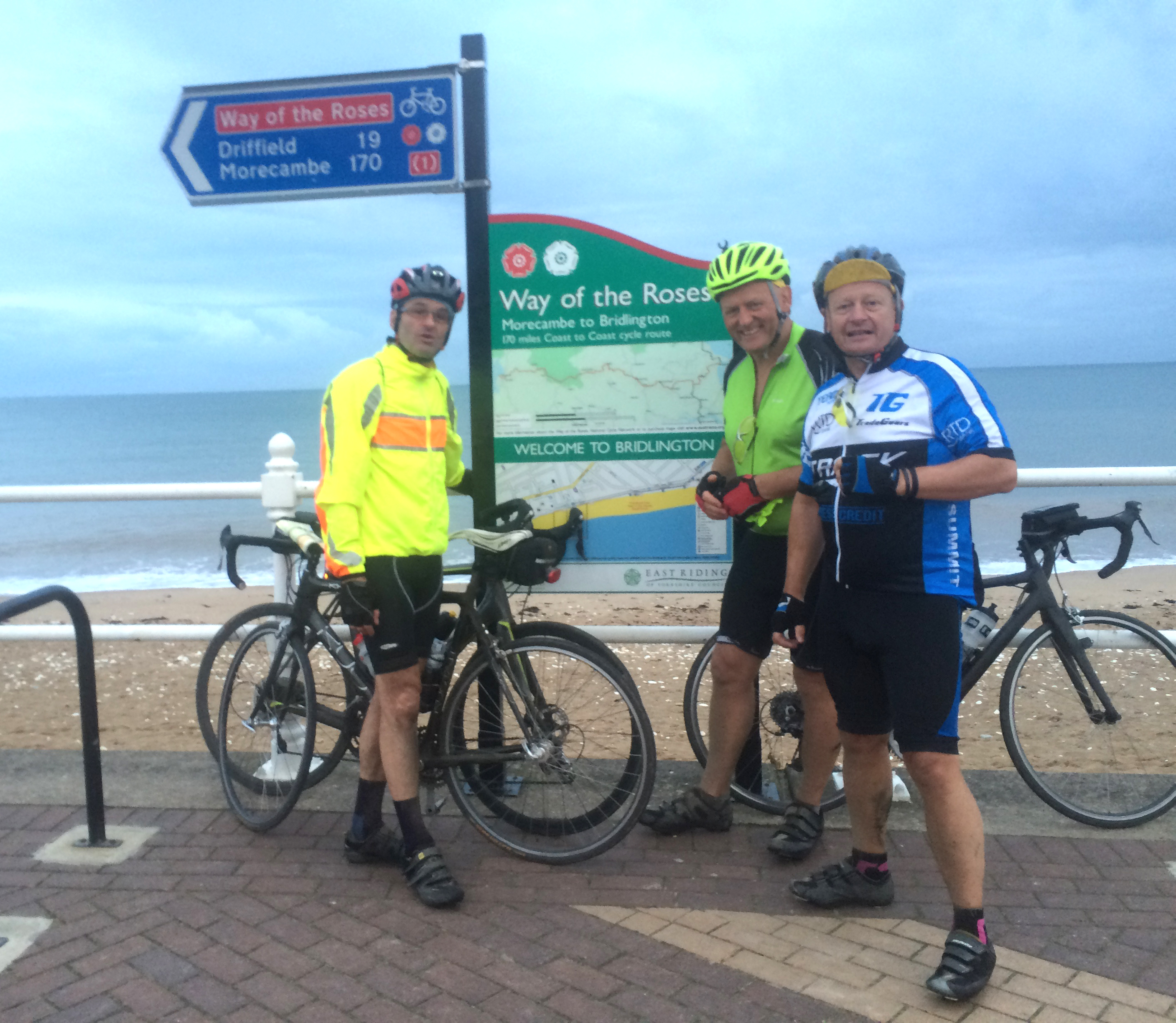 he three chose to cycle the 'Way of the Roses' over the August bank holiday weekend- a route which travels from Morecambe through to York then over to meet the east coast in Bridlington and is approximately 170 miles long. Not satisfied with this though, they decided that they'd begin by cycling from Manchester to Morecambe, adding an additional 50 miles.
So, in total, Steve, Innes and David cycled a massive 220 miles, with 9000 feet of climbing, and went on to raise an incredible £1,200 for our support service.

Chaps, you're amazing.
Steve has shared with us his (very entertaining) account of the cycle ride:
Morecombe to Bridlington is a classic cycling route through some gorgeous countryside, and has been travelled by many cyclists over the years. Two fat fellers and a skinny experienced cyclist decided to ride it for brainstrust, as we all have to many friends currently suffering with Brain Tumours. So great idea but how to get to Morecombe to start it??? Answer cycle there! Seemed like such a good idea at the time but at 5am on Sunday the 30th of September I can assure you it wasn't!
We set off in the dark, lights flashing and what can only be called a brisk English summer morning… one thing we did find out from the experienced cyclist was that if you stick newspapers up your shirt it keeps you warm!! Dave and I had never ridden further than 30 mile without a break so this first 50 was going to be tough, but we needed to get to Morecombe by 9am to give us any chance of arriving at our hotel in Pateley Bridge by 6pm. In the end it was a steady and pretty uneventful ride, other than Innes trying to push the tempo up, because I had told him the wrong mileage and he thought we were adding more on after Morecombe than we were. BUT everything went to plan and we sailed into Morecombe at 8.50 am some 3 hours and 50 minutes later… Not bad for two old fat blokes.
Breakfast in a greasy spoon was totally the wrong idea 30 min later we hit the road with a lead grease ball sitting in our stomachs, not good and it took an hour of riding to just get our systems to work its way through the fried bread and bacon. Suffice it to say we had a great ride through the back lanes of Morecombe and Lancaster, heading out to Settle where we would have our lunch break and start to prepare ourselves for what was going to be the hardest part of the route. The hills of Yorkshire…..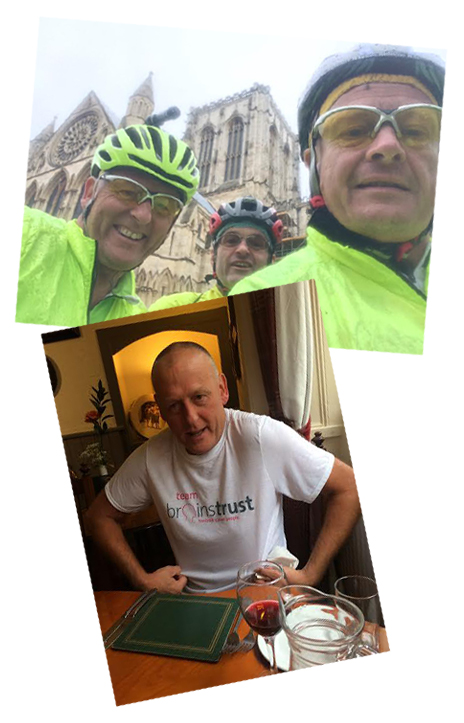 This is where it started to go a little wrong.. 72 miles in we are starting to feel the distance in our legs, lard gone from our stomachs and starting to run out of water. More great quiet country roads, and a sign ahead that says Settle 3 mile going left… But the route we are taking sends us right, in completely the opposite direction. A further 15 miles later and we are still three miles from Settle… essentially the route is taking us around and around settle to find the safest route in, we are basically settling into settle the way a dog lies on the floor. Around and around and around until finally the road runs into the town centre. 85+ miles or so and legs are definitely feeling the distance.
A quick lunch, fill the bottles then it is a battle with the cars to get out of the town centre… and then we start to go up! And I mean up! A 1 in 5 incline that stretches for what seems like forever out of settle up to the moors. The incline is so steep that if you sit on your sit the front wheel of the bike lifts of the road and you end up doing a wheelie… it's so steep you can't stop because if you get off your bike you can't get back on! And at 2 mile an hour this stretch took almost 45 minutes to complete! Pain is not in it…. I have no idea how the guys do this sort of hill in the tour de France.
When we did get to the top, or what we thought was the top the scenery was spectacular, but then more hills, and more hills for the next 30 miles. The final gruelling A road just stretched on for what seemed like and age, but finally we started a long and dangerous high speed descent into Pateley Bridge our stop for the night. My on board stopped at 45 miles an hour with both of my brakes on, but Dave behind me had a minor panic as his brakes failed on the descent.
But we got there 111 miles and we arrived at the Crown Pub in the heart of Pateley bridge, great food, great rooms and beer.
Early night for us all and a little bit of a lie in as breakfast wasn't until 8.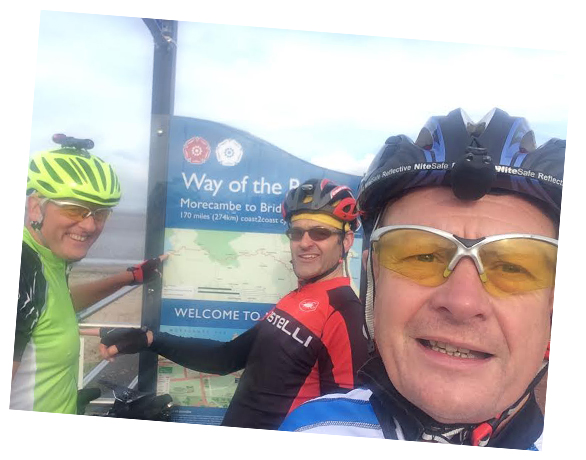 Sitting on the bikes the next day was somewhat painful and then of course straight out of the hotel and ….. you guessed it up hill. More damn hills… in fact the first 50 miles of this part of the route was almost as hard as the previous 111. After about 58 miles of amzing scenery we arrived at a little town called Stamford bridge, and a break at a little café there to try and dry out.. oh yes forgot to say Sunday RAIN! At this Café we met a couple of old people one in particular a lady called Maureen who was in her 80s recovered from a brain tumour and recently had a coronary… A brilliant lady who reached into her purse and gave us £10 for our efforts. Her friend an ex Beefeeter who had just turned 90 and was a spritely old chap donated as well so we met some great people who thought we were mad..
Back on the bike for the last 60 miles in what we thought would be flat riding but turned out to have even more hills…. The rain started to fade and we could see Bridlington in the distance and at 8 miles out we thought that our pain would soon be over.. But oh no! the designer of this route had us crisscrossing rail lines, and going in the opposite direction to signs directing us to Bridlington for a further 28 miles before our last down hill ride into the town and then the beach to get our photo by the sign and a well earned pint.
A long long ride, but worth it for a great cause, if we can help one person deal with cancer its worth it.
Thanks to Dave and Innes for making this a fantastic two days.
Steve Gore , sore old cyclist.
If you too would like to take on a challenge for brainstrust, so that we can support more people in the UK to feel less afraid, less alone and more in control in the face of a terrifying brain tumour diagnosis, then we'll help you with it every step of the way. Visit our team brainstrust page to pick one of our challenges or simply get in touch with tessa@brainstrust.org.uk if you'd like to plan one of your own.