This Mother's Day do something amazing to help the thousands of mums who are living with, or caring for someone with a brain tumour.
Every year we hold a mass participation skydive for brain tumour support on mother's day at three airfields around the UK, and you can join us for free.
brainstrust Scotland support specialist Carol took on the challenge this year:
We landed safely and I felt really proud, knowing my Dad would be too. Although it was a Mother's day sky dive I raised money in memory of my Dad to allow brainstrust to keep supporting families and as a mum myself I showed my daughter you can overcome even the greatest fears (I can't even go in a glass lift!) and enjoy it. I'd recommend it to anyone. It's an amazing experience, everything is all done for you (all you have to do is fundraise), you get sterling training and a qualified instructor with you for all of the experience. And you can't beat the buzz looking up at the sky knowing you jumped out a plane. My friend who jumped with me said she was walking on air for the rest of the week. 
We know how difficult it can be when a member of the family is diagnosed with a brain tumour. You can do something to help the many mums and families facing a terrifying diagnosis by jumping 10,000 feet out of a plane!
Skydive in St Andrew's, Brigg and Maidstone on Sunday 11th March 2018.
All of the jumps are with a fully qualified instructor, so you won't be alone. As well as the instructor, you'll join many others who are skydiving for their mum and other family members as part of the brainstrust big skydiving challenge.
All we ask is that you raise £500 and in return we'll pay for your skydive and booking fee.
The funds you raise in sponsorship from the skydive help families take control and feel less alone after a terrifying brain tumour diagnosis. Together, we ensure that no family faces things alone.
We'll be there to support you with fundraising every step of the way and we'll be there, cheering as you jump on the big day.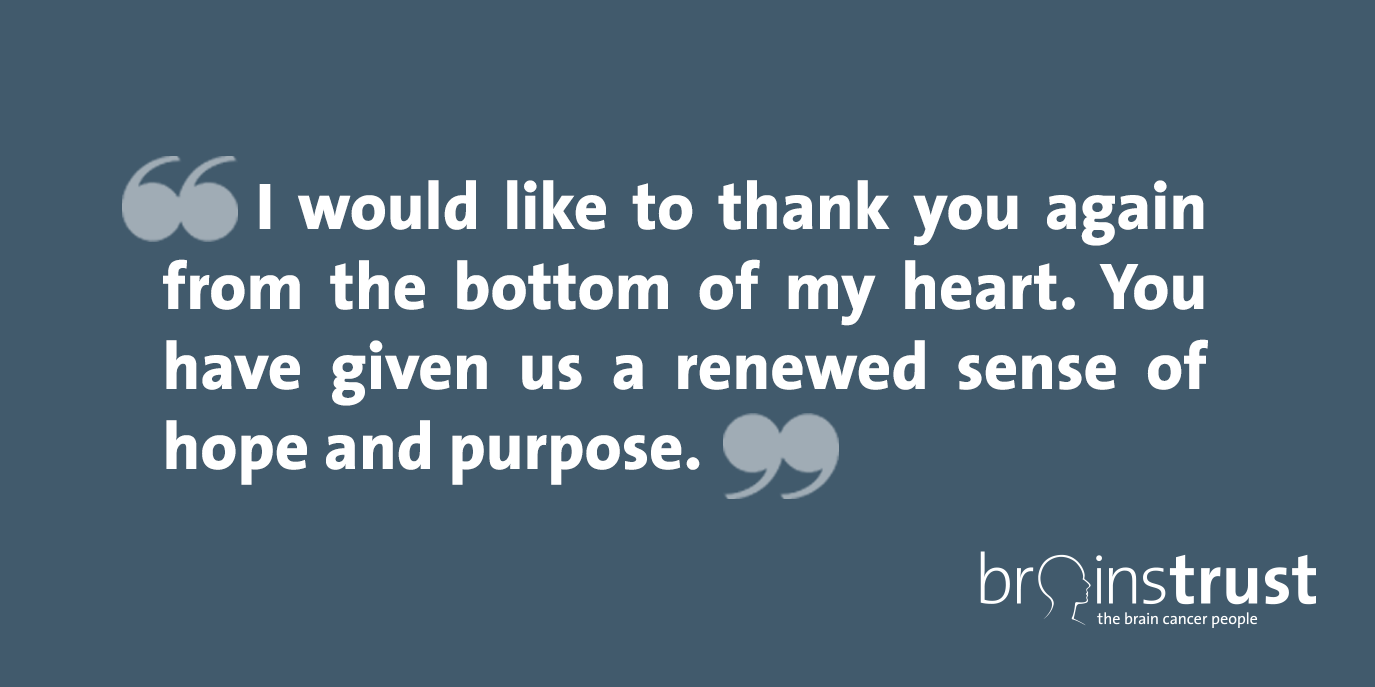 Limitations:
Tandem skydiving is an activity open to a wide range of people, but as an adventure sport some limitations do apply. The document below outlines what these are at the three different airfield locations: 
https://www.brainstrust.org.uk/Uploaded/FILE-20171212-2140PK2UV7QXM44W.pdf
Book your place today
If you have any questions about any of the skydives, please email carol@brainstrust.org.uk.