The NHS has announced the award of new contracts for stereotactic radiosurgery and radiotherapy (SRS/SRT) – specialist forms of radiotherapy that can be used to treat people living with intracranial conditions, such as benign and malignant brain tumours. This means that the number of patients receiving these types of treatment will more than double over the next three years.
More than 6,200 patients a year are expected to benefit from these services by 2018/9, compared to just over 2,400 in 2014/15. The new SRS/SRT services are spread across all regions of England, improving access to services and making it possible to treat more people closer to home. You can view a full list of all of the services providers here.
Dr Helen Bulbeck, our Director of Services and Policy at brainstrust says:
"brainstrust is delighted that at last there will be parity of access for stereotactic radiotherapy. We were closely involved and influential in securing this outcome as brainstrust has been part of the commissioning group. The outcome will never suit everyone but now patients will not have to travel so far for their treatment."
Dr Jonathan Fielden, NHS England's Director of Specialised Services has also said:
"As a result of this procurement thousands more patients will benefit from this very precise and effective form of treatment. This is another example of how NHS England is working hard to achieve better services and outcomes for patients at the same time as better value for the health service."
Click here to read more about the developments to the treatment.
About stereotactic radiotherapy (SRT)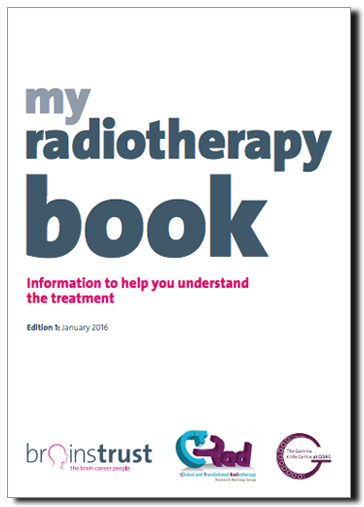 The term 'stereotactic' refers to accurate location in space. Stereotactic radiotherapy is a modern version of fractionated radiotherapy, delivered in a number of fractions. As the targeting is better than conventional radiotherapy, it is usually delivered in a small number of sessions, spanning several days or even a few weeks. How many fractions or daily treatments will depend on the tumour type and fitness of the patient.
About stereotactic radiosurgery (SRS)
This is another form of treatment with radiation, where the radiation dose is given in one single session, on one day. It is used for small tumours, usually much smaller than 4cm diameter, that are well contained. It is not suitable for large, more diffuse tumours, that are better treated with one of the fractionated techniques (radiotherapy or SRT). However it is suitable for many small tumours (e.g. cancer metastases), all being treated usually in the same session. For this is the highest degree of precision is needed, thus usually a rigid frame is used to aid the targeting, such as Gamma Knife.
For more information about stereotactic radiosurgery and radiotherapy download 'my radiotherapy book' – our guide which helps you understand treatment options.