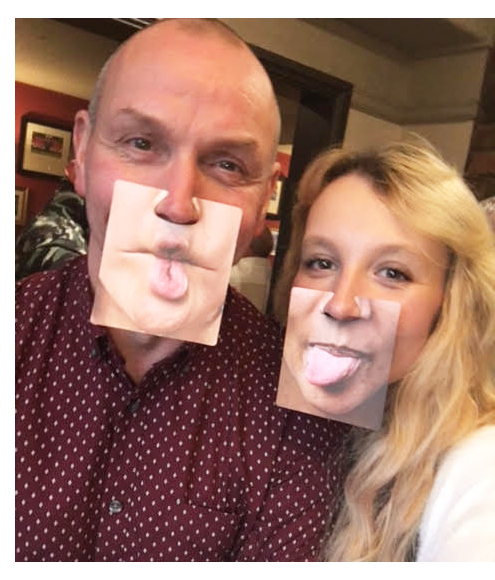 On Sunday 3 July Rebecca Standeven will be getting a huge group of people and dogs together for a walk around Westport Lake in Stoke-on-Trent to raise money for brain tumour support.
Rebecca knows how terrifying a brain tumour diagnosis is for a young family. In February of this year, whilst on holiday in Thailand, her dad experienced a seizure. When they returned home, he was having at least three seizures a day.
"It was so strange for my dad to have anything wrong with him as he's the healthiest, fittest man alive for his age. He eventually went the doctors and they told him to go A&E asap. He had a CT scan which showed a small abnormal patch on the top of his brain, which they initially thought could be epilepsy. As the days went on all of his left hand became week and strengthless, and he couldn't walk properly or move his left arm. He went for an emergency MRI scan. The results came back the following day as a brain tumour. We were so shocked. All our family and friends couldn't believe it because he's so fit and never falls ill"
Just two weeks after his diagnosis, Rebecca's dad had surgery to remove his tumour. The operation was a success, her dad's recovery was swift and the surgeon was able to remove all of the tumour. The next stage the family had to face was the biopsy. This is when they were told the devastating news.
"We were told the tumour was a cancerous grade 4 and unfortunately incurable. We were devastated. My dad's now undergoing radio and chemotherapy for 6 weeks and will then carry on with the chemo on for another 6 months. Despite being given 5 years to live, my dad is so positive. I'm so proud of him and how far we have come as a family. He's the greatest man alive, and he's doing so well!"
Throughout their journey Rebecca's family have received support from brainstrust and now she wants to do something positive to raise funds and awareness.
"I've decided to put on a dog walk at a place called Westport lake. They have a huge lake and a smaller lake, and will be walking around both of them twice. Everyone will be paying £2 to enter the dog walk and will have the chance to make any other donations too. I have around 50+ people coming so far. It'll be amazing seeing dogs everywhere!"
Thanks so much Rebecca – we can't wait to see the pictures from this fundraiser!