Last Friday, brain tumour patient Evelyn Elliot sold on a fundraising stall at the Cancer Centre in Edinburgh's Western General Hospital in order to raise money for braisntrust. Evelyn handmade all of the items that she was selling, including Easter wash cloth bunnies (complete with cream egg) and knitted headbands, which she also sells all year round.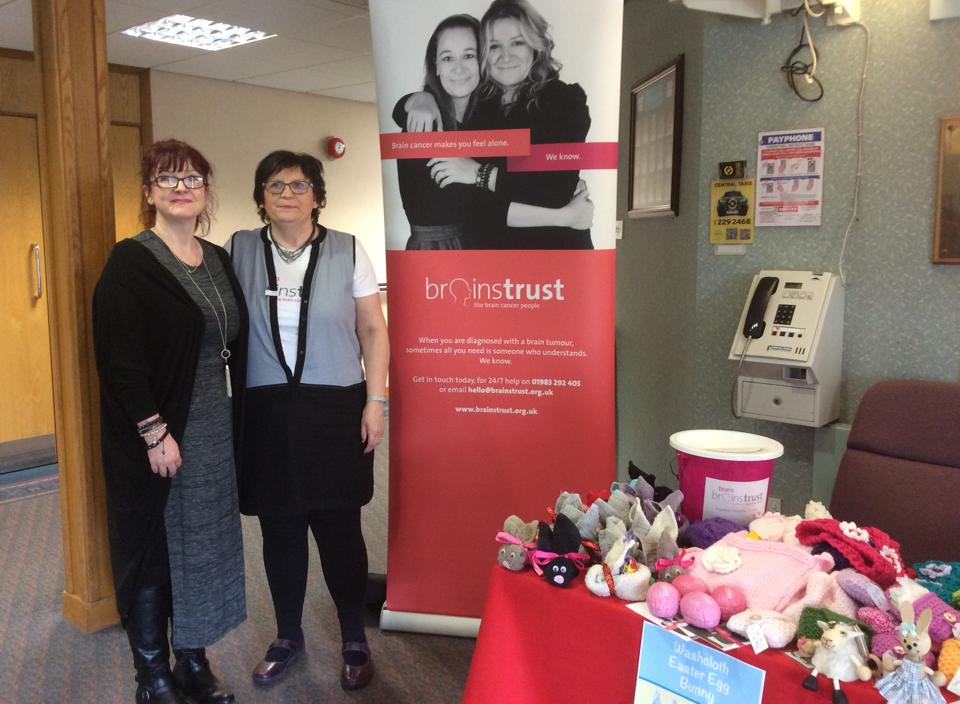 In September 2013, Evelyn was diagnosed with an aggressive grade 4 glioblastoma. After having surgery followed by 6 weeks of radiotherapy and a further 6 months of chemotherapy, she was able to stop taking medication, and hasn't done so since August 2014.
Evelyn found not working due to the tumour and illness hard though, and has since turned her efforts to continuous fundraising for brainstrust.
"I have always been a busy person and during my time at work was never still so found it hard to sit and do nothing but knew how important the process was to enable me to get on with my life. My husband was the one that approached brainstrust as he was looking for some answers to my diagnosis and also a charity that I could raise money for to keep me focused"
Since contacting brainstrust, Evelyn has gone on to raise nearly £4000 for our charity. She's got her family and friends involved with bits of baking, running races, raffles, quizzes and continues to make the items like those she sold on Friday. And, her washcloth bunnies raised an incredible £180.
Carol Cochrane, our Support Specialist for Scotland who also went along with brainstrust resources on the day has said
"Without wonderful fundraisers like Evelyn we wouldn't be able to support the brain tumour community in Scotland – she's an inspiration"
Evelyn, you're amazing.
Read more about Evelyn's story and help her with her continued fundraising HERE.
With your help we can continue building a support service for more people across the UK, so that they feel less afraid, less alone and more in control in the face of a terrifying brain tumour diagnosis. We have a list of events that you can get involved in or, if like Evelyn, you'd like to do your own fundraising for brainstrust, we'll support you with it every step of the way. Simply email tessa@brainstrust.org.uk