Our Director of Development, Will Jones was last night presented with an Inspiring Communicator Award at an awards evening hosted by CharityComms.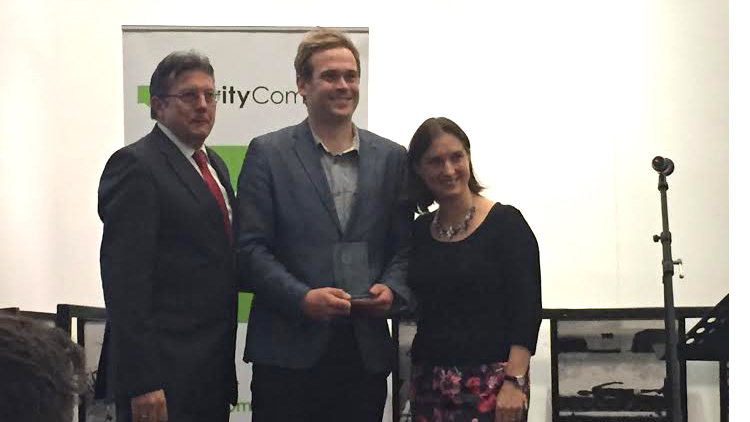 Will works tirelessly to put the world right for people living with a brain tumour, so we're thrilled that his commitment, drive and outstanding communication has been recognised.
Helen Bulbeck, our Director of Policy and Services, states:
"Will has to walk in so many pairs of shoes at brainstrust – some of them tricky to wear. But he always steps up to the mark. Whether it is helping a patient who has just been given a terminal diagnosis of a brain tumour on the phone, encouraging a volunteer to shave their head, enticing a company to support a brainstrust event, writing a job advert, developing strategy or addressing the board of trustees, Will knows exactly how to pitch his communication"
A particular achievement that CharityComms noted was Will's role in developing the Patient Information Portal for the brain tumour community, which has now been adopted by Cancer Research UK to be rolled out across the cancer community. And, Will received the award alongside other inspiring communicators from leading charities such as Friends of Earch, RSPCA and Macmillan- a testament to how a small charity really can make a big difference
Will works so hard to ensure that the voice of the brain tumour community is heard. So, this win is not only significant to him and brainstrust, but also to the people who everyday have to face the real challenges that follow a brain tumour diagnosis.
Well done Will!
Click here to read more about the Inspiring Communicator Awards.