Well done to our team brainstrust runners in this year's Great Manchester Run. You were all amazing.
We had a last-minute addition to the team when Claire Bushell, our support specialist for children and families, decided to run. Moved by the attacks in Manchester, Claire wanted to support the Manchester community, while raising money to help people living with a brain tumour.
This is Claire's story.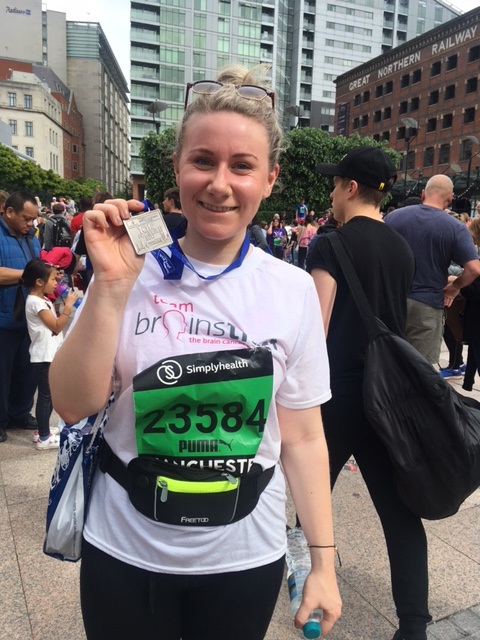 Last Thursday, on a bit of a whim, I decided to take part in the Great Manchester Run for brainstrust. As a proud Mancunion for 7 years now, I've been really affected by the attack in Manchester – so when our Northern Fundraiser Michael challenged me to take up a place in the 10k – I didn't take much persuading.
The chance to join my city in a huge event and show the world that the awful events have only brought us closer was really one I couldn't ignore. It was also a fantastic opportunity to raise a bit of cash for brainstrust. So now there was only one problem – I've never run 10k. In fact, I've barely run 5k before! And I only had 3 days to go.
As the support specialist for children and families, I've seen and heard first-hand how devastating a brain tumour diagnosis can be. This carries so much more weight than just the 'c word.' For many, it means a shortened life, ongoing cognitive and neurological deficit, mobility problems, worries about siblings and more. It carries the certainty of an uncertain future. For families, all of this can result in a loss of control.
At brainstrust, the work we do helps families to regain some of that control. Our work helps them to find the right support, so that with their uncertain future they can live well, and feel less alone. The families we support surprise and inspire me every day with their strength and resilience. I feel really lucky to be able to help them in the way we do, and so I wanted to do something inspiring for them too.
Back to the training. This involved a tailored plan of
a) lots of sleep
b) lots of water
c) a few gins for the bank holiday
d) pizza on Saturday (I heard carb loading is important before a big race)
And before I knew it, I was at the start line! The atmosphere was incredible, and a group warm up was followed by a minute's silence and an inspiring poem by Tony Walsh http://www.bbc.co.uk/sport/athletics/40077781. And then, we were off! Crowds lined the Manchester streets and, as I got into my rhythm, we headed out of the city through Castlefield. My main hope was to run as much of the course as possible – so at my steady jog I was shocked to get to the 4k mark at Old Trafford and still be running! Even on the quieter sections of the course members of the public cheered on as many people as they could. I lost count of the number of high 5s I'd got by this point! Music stations added to the entertainment / distraction too – with brass bands, steel bands and DJ booths blasting out 90s Manchester classics.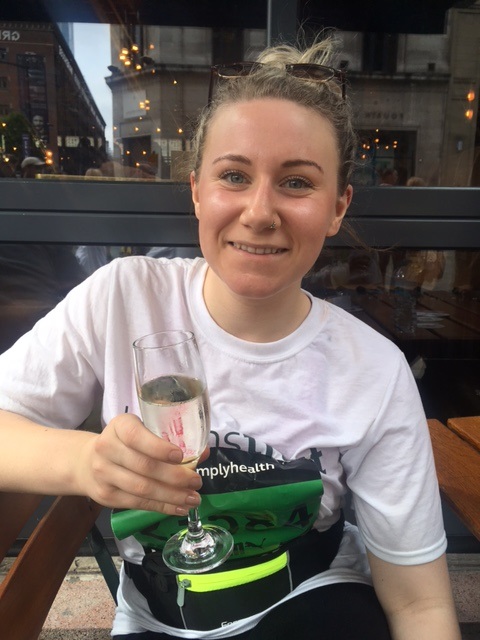 As we swooped around Old Trafford Stadium and Salford Quays and headed back towards Manchester – I wondered if I might just be able to run the whole thing…was I really enjoying myself? At 8km the crowds started building up – and with my shuffle-jog now perfected I knew I could do it. The last 1km was a breeze – there's nothing like Mancunion strangers telling you how proud they are to give you a boost!
The atmosphere was really special, and I even managed a 'sprint' finish and made it over the line in 1.15.52 – a personal best of course! I collected my medal and swiftly grabbed a glass of bubbly and a well-deserved burger before sinking into the longest bath of my life.
I'm so proud to have taken part in such a wonderful day with Manchester and thrilled that I've raised over £200 for brainstrust in just 4 days, which is enough for 4 of our fantastic brain boxes for families who are coming to terms with huge challenges of their own.