All throughout last month, Antony Evans and Ian Phillips, two of our incredible supporters, asked people to shave, donate and nominate for brain tumour support.

Why?
Five years ago Ian was diagnosed with a brain tumour and we've been supporting him since. So, the boys not only wanted drum up some funds for brainstrust so that we could support more people, but also wanted to communicate more awareness of the traumatic effect cancer has on its sufferers and families through a campaign more empathetic than those previous.
"We believe 'Movember' has maybe run its course, and promoting growing hair, which never actually happens in the treatment of cancer to our knowledge, is just a bit odd. We're not aware of patient's symptoms, of any disease, feeling like they've had a bucket of iced water poured on their heads either!!! We believe this is a far more empathetic and compassionate way of communicating the issues of chemotherapy treatment surrounding the condition that is cancer, a disease that Fig (Ian) continues to battle bravely"- Antony Evans, Shavepril organiser
How?
Shavepril was in the style of other campaigns, like #NoMakeUpSelfie and #IceBucketChallenge, in the way it asked people to shave, donate and then nominate someone else to do the same. Shavepril was different though, because people knew from the outset what they're donating to: the charity that helps people feel less afraid, less alone and more in control of a terrifying brain tumour diagnosis (that's us!).
April 2nd: Shavepril begins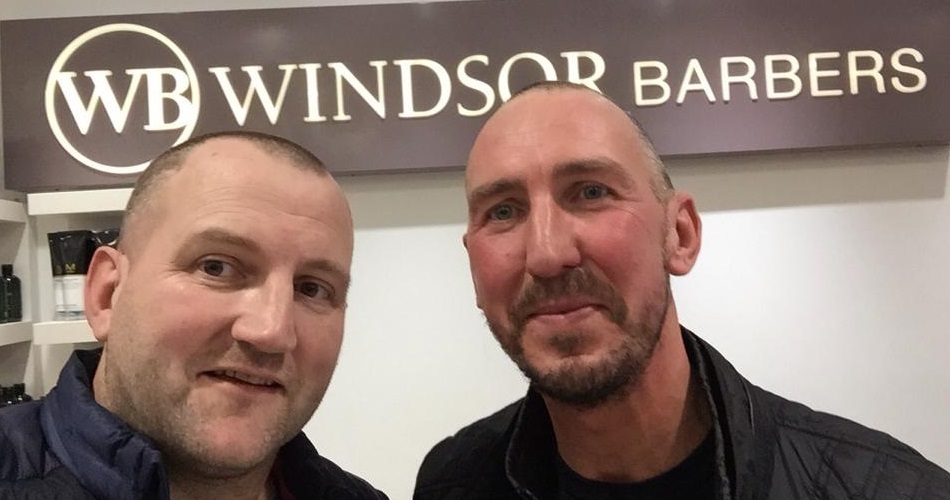 Who better to take the first brave shave than the two organisers themselves: Antony and Ian. On April 2nd, they headed down to Windsor Barbers and roped in Non Evans, a famous Welsh sportswoman, to do the honours of razor-ing off their hair. Here they are:
From then on, with incredible promotion from the boys, Shavepril took off faster than a razor through the hair. So many amazing people got involved and did something bold for brain tumour support, some who took their nominations seriously and went ahead and others with more personal reasons.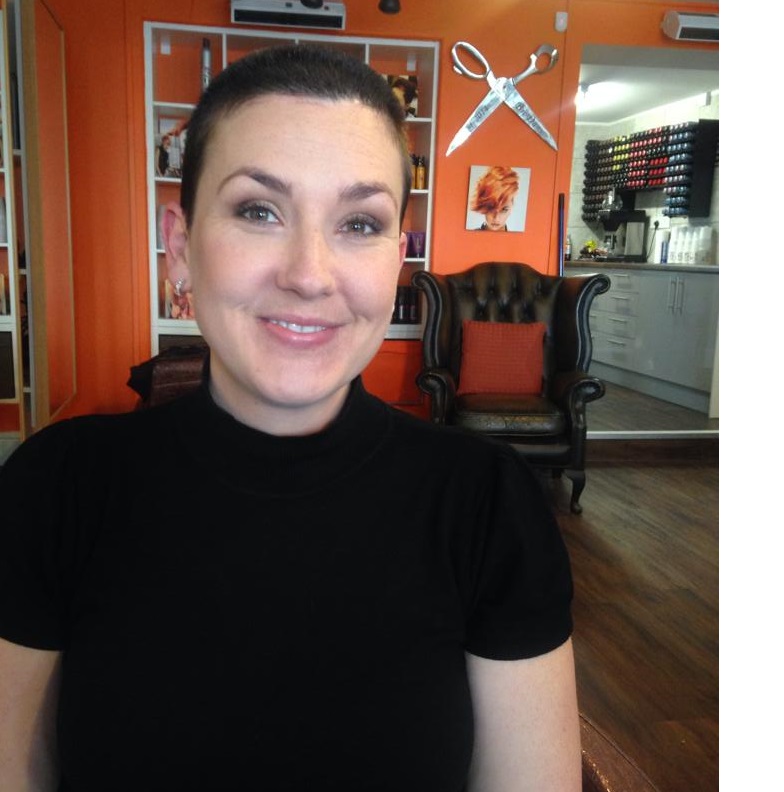 And it was the latter than inspired 'the first lady of Shavepril'. Charlotte Ferris stepped up to the challenge in memory her auntie whom passed away from a brain tumour and mother in law who she lost to cancer. Charlotte's shave alone raised £2000 for brainstrust, and inspired another brave lady to follow lead. Indeed, shortly after Nicky Murrell joined the campaign in memory of the mother she sadly lost to a brain tumour and reminded others in the meantime why it was so important to get involved.
"Looking back, I remember being stunned that there seemed to be nothing that could be done other than to make her final months more comfortable…I remember feeling as though we left to get on with things – I know we weren't entirely: the doctors and nurses and the various hospitals and clinics were incredibly caring and compassionate but we so needed someone to lean on,
someone to ask those tricky questions of – what is going to be like? brainstrust now offers this and SO much more – it offers hope. I have chosen to do this now because it is right for me now. I am ready to make a stand, to be noticed and make people notice brainstrust and brain cancer"- Nicky Murrell
It was absolutely amazing to watch this campaign grow, and see so many people do something huge to raise vital funds for brain tumour support. We're pleased to announce that Shavepril raised over £7000. And that was mainly down to Antony and Ian for inspiring people every single day to get involved. And we mean every single day- 'Mow it off Monday', 'Trim it off Tuesday', 'Whip it off Wednesday' ect…
Thank you boys. You are both legends. And also, a huge thank you to EVERYONE who took the incredibly brave shaving step, and those who donated and made Shavepril the brilliant month it was.
Rest assured that your funds and bald heads will go towards building our resources and support service so that we can help reach more people across the UK living with and beyond a terrifying brain tumour diagnosis.
To see all of amazing participants' before and after shots from the campaign visit the Shavepril Facebook or Twitter Page.