Today, brainstrust and the National Cancer Registration Service of Public Health England are able to share for the first time up-to-date information on the number of people in England and Wales living with a brain tumour.


DOWNLOAD THE INFOGRAPHIC HERE (JPG, 1.6mb)
We now know categorically that there are over 55,498 people living in England and Wales with a brain tumour. And there is potential for there to be a further 20% increase in this number when we have accurate data for London and the South East, and a further jump once we have data for Scotland, where we are also helping hundreds of people with a brain tumour and their carers.
Before today, we knew that around 8,600 people a year were diagnosed with a primary brain tumour, but knew that this figure did not reflect the real scale of the challenge that we face – after all, most people we bump into seem to know someone who has been hit by this devastating disease.
With the potential for a 20% increase taken into account, there are around 60,000 people in the UK who could need brainstrust's help coming to terms with a brain tumour diagnosis and the issues that can accompany this news. brainstrust's 'Real Issues' campaign which ran in Spring this year identified the main challenges for people with a brain tumour, low and high grade, and their carers as follows:
Feelings of despondency
Challenges faced due to brain cancer being unique
Feeling unresourced
Practical barriers patients and carers are up against
Will Jones, Director of Development here at brainstrust says, "This new data is eye opening. There are a huge number of people that are coping with the effects of a brain tumour, and we can only begin to imagine the burden on carers, particularly when many people have more than one carer. We are hopeful that we can continue to grow brainstrust, and the brain tumour support agenda, so all 55,000 plus people, and their carers, can access everything they need to help them feel they are fighting for the best possible outcome for their diagnosis."
What does this mean for the brain tumour community?
Well there's a lot to take in, and many ways to interpret the news.
There are also lots of questions. Is this number getting bigger or smaller? How many people are living with a brain tumour in Scotland? How will the relationship between low grade and high grade tumours change over time? How many of these people can we help? How many of these people want help? Rest assured, we will know the answers to these questions and many more over time.
If we want to glean some good news from this new information, we know that with this many people affected by the disease, no person battling a brain tumour should feel alone – we can build an even bigger, stronger supportive community.
And we know now that we need to work harder than ever here at brainstrust. We are here for anyone and everyone that needs us, and the leap from helping 1500 or so patients and carers to 60,000 or more is a big one, and we can only do it with your help and support.
If you need help now, or would like to support us as we build a service to help 60,000 people, call or email 24/7 on 01983 292405 and hello@brainstrust.org.uk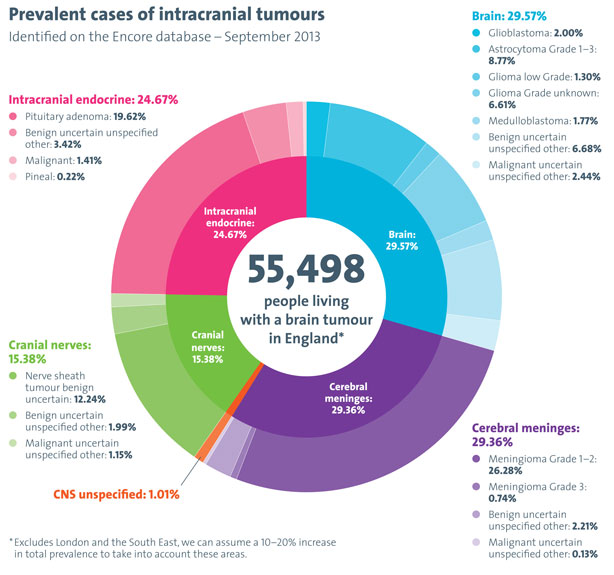 So what does 55,498 people look like? Well, it's a good turn out to watch Arsenal at the Emirates Stadium. And it's also enough people to fill…