As a keen runner, Ashley Hawkins has taken part in more than 20 half marathons, raising thousands of pounds for various charities.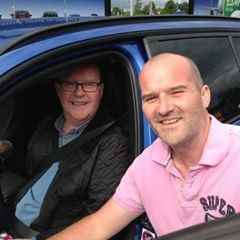 In December 2013, when his dad died of a brain tumour, Ashley wanted to raise money for brainstrust, in memory of his dad and to help people in the UK who were affected by a brain tumour.
There was just one problem. After a serious knee injury and double knee surgery, surgeons told Ashley he wouldn't be able to run long distances anymore.
Not to be deterred, he decided that instead of running a half marathon, he would organise one instead. He set up an events company, Fit4thechallenge, in January 2014 and the Bassingbourn brainstrust half marathon was born, followed soon after by the Bass Belle 10 miler.
"I could no longer run in the races and raise sponsorship," says Ashley. "So, the next best thing was to create races with a charitable element."
Ashley currently has two races in his event portfolio, the Basingbourn half takes place on the first Sunday in July, and the Bass Belle takes place on the last Sunday in November.
The events are always good fun and the money raised helps brainstrust continue to support people living with a terrifying brain tumour diagnosis.
"The reason for choosing brainstrust is two-fold. Firstly, on a personal level, my dad from out of nowhere was diagnosed with a brain tumour," says Ashley. "It was a total shock to the family and it changed all our lives forever. The second reason for choosing brainstrust is that I am appalled with the lack of central funding into brain cancer and I just want to do my bit, through the races, to raise funds and awareness for the charity. "In memory of my dad, brainstrust will always be the charity of choice for my races."
Find out more about Ashley's races, and other brainstrust races, on our events page.