Your 50 miles will 
make a massive difference. We 
know.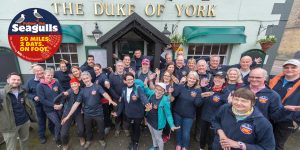 Follow the Seagulls is the long distance, charity trek to help people beat brain cancer. It's your chance to do something truly incredible that matches your passion to help the 60,000 people in the UK who are afraid and alone because of their brain tumour diagnosis. It will take all you've got.
Choose your challenge:
13th & 14th of April for Dartmouth and Whitby.
27th & 28th of April for Cowes and the Fife Coast.
Over the last 3 years, the Follow the Seagulls has raised over £100,000 to help people living with a brain tumour and it couldn't have come at a better time. This year has seen a huge increase in the number of people that have heard the words 'you have a brain tumour' reaching out to us for our support. Since the last Follow the Seagulls, we have sent out over 430 brain boxes. In the whole of 2017, we sent out 380!
'brainstrust were there for me in those first few hours when I sat alone at home, wondering what the hell had just happened, wondering how I was going to tell people, wondering if I would die, wondering 'why me?' They were calm, informed, and they listened to my ramblings for what seemed like hours, before offering me comfort, and invaluable practical advice to help get me through the following weeks.  The consultants and surgeons saved my life, but I could not have held it together without the help of the people at brainstrust' – Debbie (Seagulls walker 2018)
Until now, fundraising challenges that match your strength of feeling for improving life for people with a brain tumour have been few and far between. Now is your chance to help us shape brain tumour support in the UK and change the lives of those who we help.