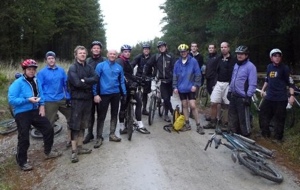 Fifteen of Brahm's best took to their bikes out for a long ride this weekend. Brahm is a leading marketing agency based in Leeds. Their friendly trip statitician has thrown up some interesting facts about their achievements, which all came in 6s:
They covered 60 miles (about 90% of which were off road)
Ian Rossin burnt 6000 calories
They climbed just shy of 6000 feet
The group consumed 60 000 pints of brown booze on the Saturday night
Paul McGuigan got lost for 60 mins
Mike Cooper swan dived into a 16 inch deep puddle (alright, that's a tenuous '6')

But thanks to all their wonderfully supportive colleagues, friends and family and with the help of the Dolphin Inn they went the distance and raised a brilliant £1,245 of sponsorship for brainstrust. A big thank you to Will Jones for encouraging Brahm to support us this year.
You can still sponsor the Big Brahm Bike Ride '08 on their Justgiving page: