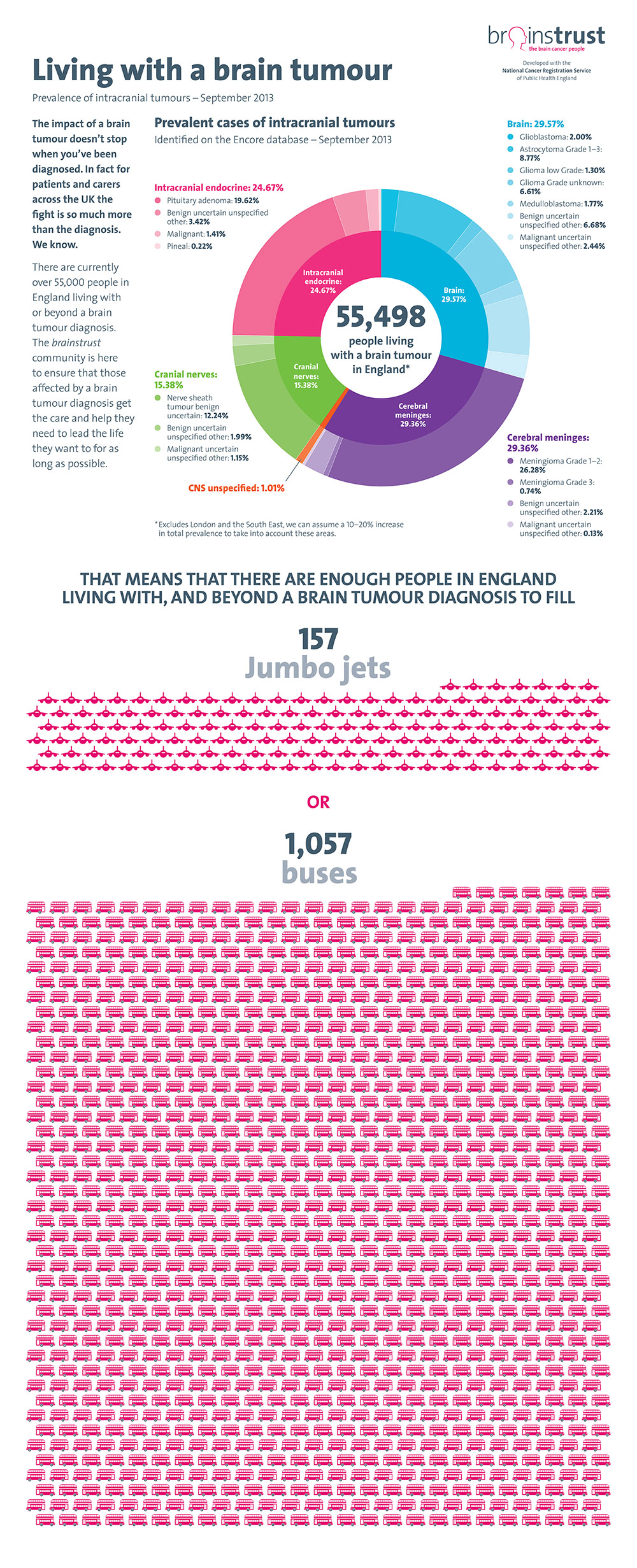 Today Macmillan publishes a new report, Cancer Then and Now, highlighting the impact that improved cancer services have had on the cancer community in the last 50 years.
People are living longer – good news.
But this is not the case for every cancer. We know that there are over 55,000 people living with a brain tumour in the UK
[see inforgraphic, right]
. And we know that there have been too few improvements in the treatment of brain cancer in the last 50 years. We also know that as more people are living with primary cancer, the numbers of people with brain metastases is increasing. What does this mean? Well for us it means that we are working hard to improve the quality of life and care agenda for our community. We have just completed a literature review for mood, behaviour, cognition, depression, anxiety in people living with a brain tumour and for interventions that help caregivers to cope. Very little of this research tells us what we didn't already know, what you have been telling us for the last ten years. We know what the burden is like – the daily challenges and the struggle that our community has:
https://www.brainstrust.org.uk/quality-of-life.php
.
We are looking at the research to find what guidelines can be formalised to drive this agenda forward, so that funders stop putting money into research that tells us what we already know and so that we can begin to direct funding to interventions that really will make a difference, based on the James Lind Alliance priorities and what our community has asked for:
Our position on the new NICE Guidelines committee will also help with this work.
So yes – lots of good news from Macmillan. But still a long way to travel before we can rest on our laurels safe in the knowledge that not only are people living a long time with a brain tumour, but they are doing so with a good quality of life. There is more work to do, and we need your ongoing help to do it. Thank you for what you have helped us to achieve so far.