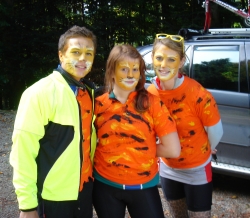 Thomas Carter contacted brainstrust in the autumn of 2007. His mother was desperately ill with a brain tumour and he wanted to do something that would help. And along came the Velo Vosges Challenge – for seventy teams of four to cycle nearly 500 miles in three days riding in relay from Arras near the English Channel over the formidable Vosges mountains to the fairytale village of Riquewihr.
We were able to complete our cycle ride at the beginning of October whilst Mum was still alive, cycling with her in our minds. We had two teams of four, consisting of myself, my brother Chris, dad Jonathon, Simon, Ben and Tamsyn Derrick, Will Goodison, and Eleanor Wratten. We cycled 500 miles in three days, from Arras in the North of France, to Alsace in the East, going over the Vosges Mountains.
Now that is doing something – and in the process Thomas and his team has raised £2700 for brainstrust. We're proud of you Thomas!