After Southampton man Bob Gadd was diagnosed with a brain tumour, the Gadd family pulled together to support brainstrust and our work with brain tumour patients and their carers. Driven by a bottomless vat of energy, the Gadd's 'Help for Heads' campaign has got off to a flying start, raising much needed funds for our brain boxes, meet ups, the brain tumour hub and the brainstrust 24/7 support line. All of these combine to make up our unique and effective brain tumour support tool kit.

Well, what a blast the Help for Heads tea party was – the rain could not stop our enthusiasm for all things 1950s. We started with a very rough idea of how we wanted the day to go; the one thing we did know was that it would be ladies only.
A good few months were spent collecting tea sets – ebay, charity shops and donations all added up to 120 vintage tea cups, saucers and cake plates. We shopped and borrowed – from tea urns to tables, sugar cubes to cake forks, and finally the week before the big day we had everything on the list.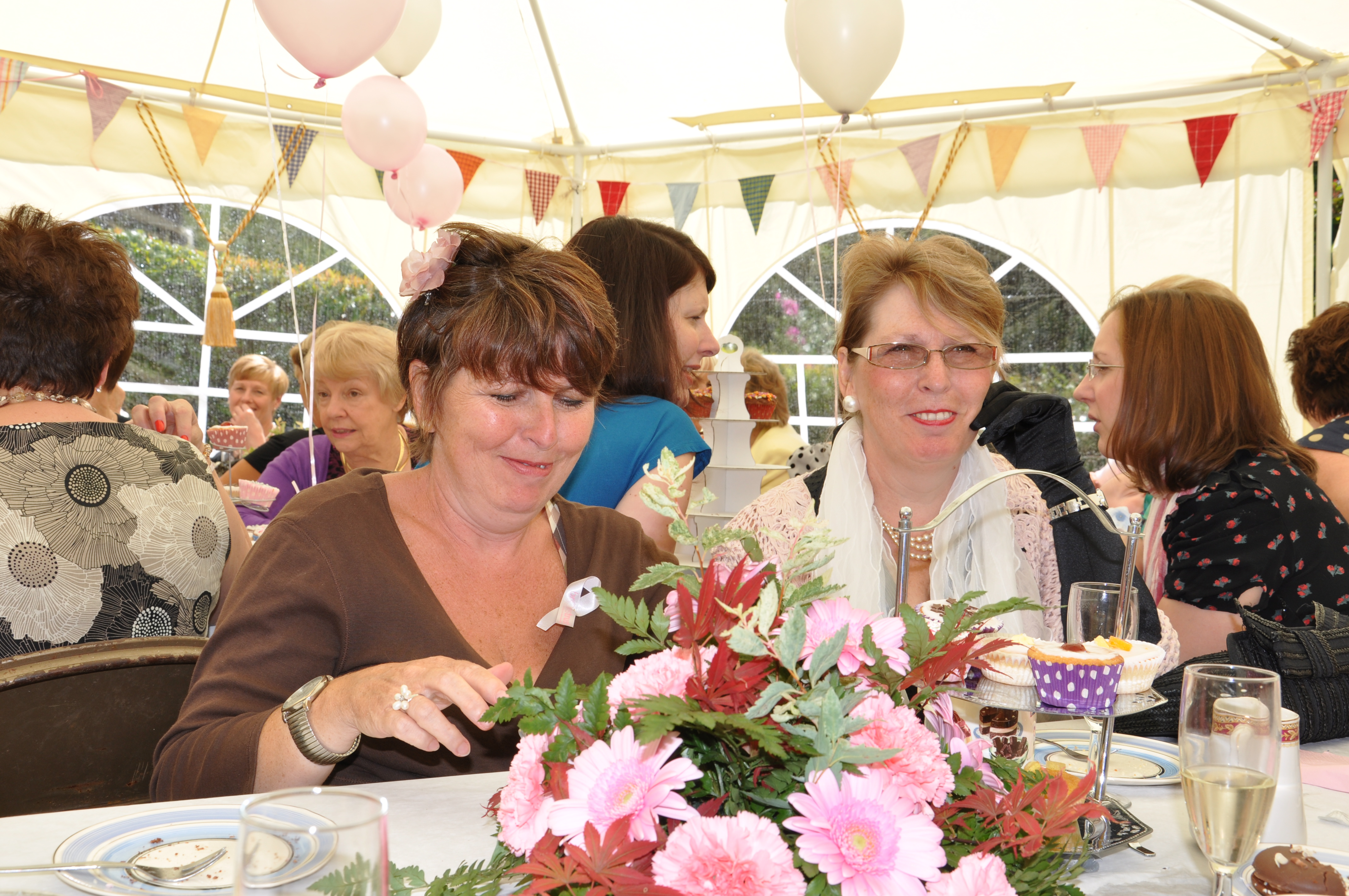 Up went the marquee and bunting. And down came the rain! It rained and rained and then rained a bit more. By Friday night we had washed up every piece of china, counted the cakes and prayed for sunshine.
Finally the day we had been planning arrived. The raffle prizes were laid out – what a fantastic set of prizes we had; the one thing that amazes us the most is people's generosity. The tables were laid up and the flowers had arrived… so far so dry. The men were all suited and booted ready to serve and the ladies looked delightful in their dresses. People started to arrive and everyone brought a cake! Tea cakes, fruit cakes, cup cakes….even a man's chest shaped cake!
Champagne was flowing, ladies were chatting, the men were serving tea and cake and the day was perfect. Everyone had a great afternoon – the music was perfect and a magician was on hand to entertain the child in every adult, prizes were won and cakes were sold. Once the last lady had left, we had a much earned cup of tea (we had plenty!) and totalled up the money.
All in all the first 'Help for Heads' tea party raised a stunning £2069.00 to support brainstrust in their work with brain tumour patients and carers – much more than we could have expected.
And yeah, it rained but really it didn't matter that much!