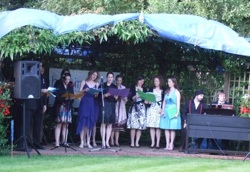 The Summer Serenade on 19 July raised a magnificent £3,300, smashing last year's Midsummer Medley total. We think the freezing weather made everyone put their hands deep into their pockets!
We are so grateful to Anna Wormleighton for organizing this amazing event for the second year running and to her brilliant mum Alison for hosting it. Special thanks also go to the talented performers who sang and played beautifully making it such a magical evening. And to all the helpful neighbours, villagers of Knebworth and the Knebworth Twinning Association who helped support the concert and produced an audience of 250 people.
Thank you all for supporting this fantastic event and helping to spread the word about brainstrust.