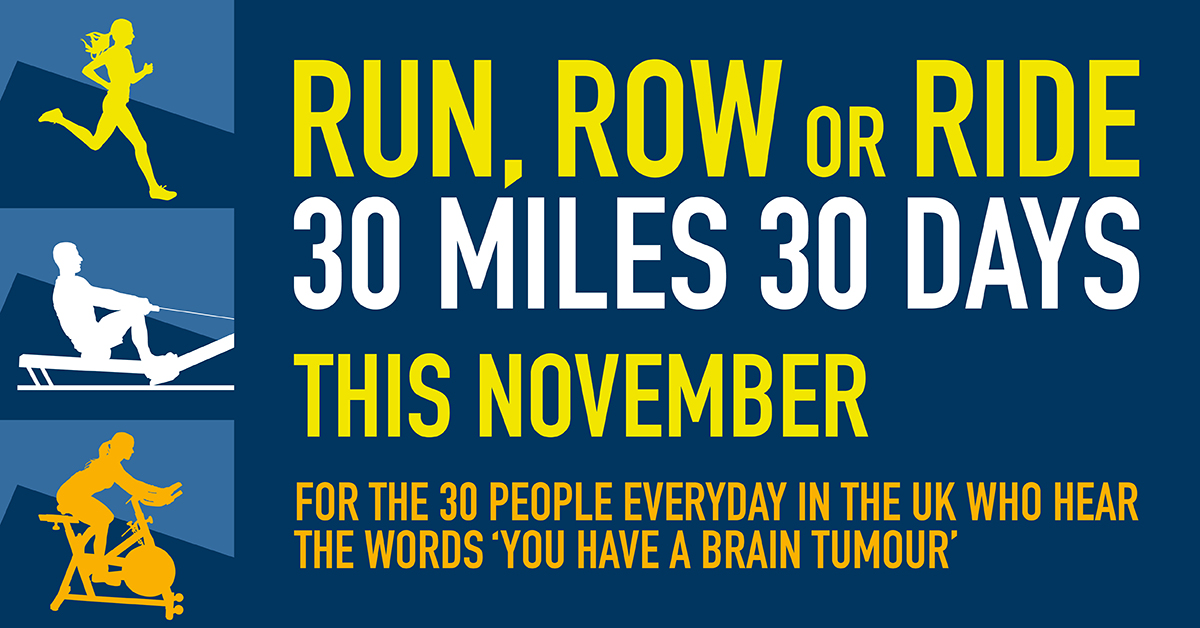 Run, Row, Ride: 30 miles, 30 days, your way
Our famous virtual event Run, Row, Ride will take place once again this coming November!
The challenge is to take on 30 miles over 30 days, all in support of the 30 people who are diagnosed with a brain tumour every day here in the UK.
For those 30 people, the road ahead looks scary and uncertain. By taking part in Run, Row, Ride, you'll aim to raise £200 to ensure that brainstrust can be here to help families feel less afraid, less alone and more in control. 
You can choose to walk, run, row or ride – do it your way! Whether you stay undercover at the gym or explore the great outdoors, your incredible fundraising efforts will support 30 people who have heard the words "you have a brain tumour" today. 
By raising £200, you'll help to fund four hours of coaching with one of our dedicated Support Specialists. When life with a brain tumour feels overwhelming, our coaching conversations help people to focus on the things that matter most to them, so they can live their best day, every day.
"Your help has been monumental to me in working through my thoughts and understanding of this disease. You have helped me gain a perspective on what has happened. Thank you so much for all your time and kindness." – Carer
When you meet or exceed your fantastic fundraising target, we'll send you a brainstrust medal and certificate to say thank you for your incredible support.
Don't just take our word for it
We were overwhelmed by the response Run, Row, Ride received last year. Inspired by personal experience, or that of a loved one, our community came together to conquer at least 30 miles in 30 days. It's true to say that every single person more than rose to the challenge.
Together #teambrainstrust covered over 2,500 miles in November 2020. Their hard work and phenomenal fundraising efforts combined raised a team total of over £30,000!
We we're thrilled to hear how much everyone loved taking part. Don't just take our word for it! Click the links below to hear from:
For more information please email fundraising@brainstrust.org.uk