Jo Moohan's a lovely lady. 4 year's ago she was diagnosed with a brain tumour, and recently we've been helping Jo out with some queries and wotnot to do with her diagnosis. Today Jo's saying thank you by making and selling pickles.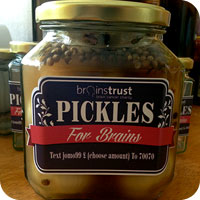 Here's what Jo has to say…
"I was diagnosed with a meningioma 4 years ago and brainstrust kindly helped me … and I just wanted to say thank you.
I make pickled onions and piccalilli every year for Christmas and usually end up giving jars away … So this year I thought each jar could earn a donation!
Our local printer is creating some labels (free of charge) for the jars with brainstrust's logo on and the number to donate by text.
I smell of onions but it's worth it!"
So far Jo has raised a staggering £600 for our work to provide brain tumour support. With the money we will be able to help even more brain tumour patients and their carers.
Oh and the name 'pickles for brains'? Jo says that it came from the fact that it is what her cheeky kids says she has!
You can support Jo over on JustGiving: www.justgiving.com/jo-moohan/
And follow what she is up to over on twitter: www.twitter.com/Sakuramoo
Thank you Jo – you're a star!