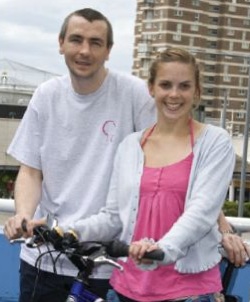 Peter Krykant completed the Mid-Sussex Triathlon on Sunday. He completed the course in a personal best of 1 hour 45 minutes! Congratulations Peter!
Peter, who works with Meg Jones' uncle Mark Shackelford at Inkfish in Brighton, was inspired by Meg's refusal to give up when she was diagnosed with a brain tumour. Peter met Meg for the first time last week and said:
It is nice to see somebody who has been through such a hard time and they're doing so well.
Peter raised £500 for brainstrust by taking on his first triathlon. Well done Peter! He is very happy to be supporting other patients like Meg and their families in their search for treatment.