As a young boy growing up in late 1970s Wolverhampton, my Dad wasn't like other Dads.  He made up characters with silly names and sillier voices.  He liked to play cricket in the street with me and my mates and we'd watch Tiswas together on Saturday mornings. On our regular summer holidays in New Quay, Wales, kids would knock on our caravan door and ask; "Can your Dad come out to play?"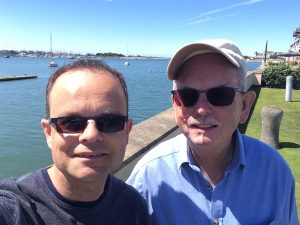 He made me laugh so much, I loved his child-like spirit, his warmth and sense of fun – and the contrast with Dad 'the serious business man'.
We were always really close and as I began making my own way in life, we still loved doing the same things together. "Two peas in a pod" people would say.  He'd often introduce me as; "the version with hair" (a few years ago now admittedly!)  We went to Wolves matches together, discovered new places to eat and would have a little seaside break each year.  When he became a proud Grandad-Paul, he was always the first to congratulate his grandsons on anything they achieved.
In August 2017, I was on holiday at a campsite in France with my wife Gill, and our two boys; Adam and Matthew.  I remember it was a wonderful, carefree week where the sun shone and the hardest decision was which swimming pool to choose.  I was outside cajoling the barbecue into life when I got a call from Dad's partner, Kath.  Her voice was shaky and she said Dad had been taken into hospital and tests had shown a suspected brain tumour.  Just hearing those words, even from 600 miles away, it's like someone has just shot you right there.  Life can change forever in a moment – even if the 'event' itself has not happened directly to you.
I stumbled into the apartment in a daze and as the words came out of my mouth it didn't seem real. Then my mind darted back to the last time I'd seen him for a pre-holiday catch up and a beer. He seemed unusually quiet and, when I mentioned it, he said he'd been feeling tired lately and just "not quite right".  I also remembered hearing a strange little scraping sound as we walked out the pub and noticing it was his one foot slightly catching the pavement more than the other.  "Oh yes I've noticed that as well," he said, saying he would go to the doctors.  As I went for a long and very slow walk around the camp-site I suddenly felt enormous guilt that I had allowed all the pre-holiday preparations to overshadow my concern for Dad.
After landing back in the UK I went straight to see him in hospital.  He was pragmatic, accepting even, knowing something had been wrong for a while.  Maybe even a little relieved.
My Dad was kindness personified and even after the consultant at Birmingham QE hospital gave us the devastating news that it was likely to be the most aggressive grade 4 glioblastoma, Dad said he wanted to be a volunteer there to help others.  Sadly, post operation, his decreasing mobility and energy was to prevent this. His dry sense of humour prevailed; as we walked out of the consultant's room and headed for the next stop on the conveyor belt from hell, Dad remarked; "Well, that's me done with eating broccoli."
Next stop down the corridor was to see a specialist who would explain what the surgery entailed and options available, then there was someone talking to us about the chemotherapy and radiotherapy regime that would follow…and then a lady who explained briefly about Macmillan support and I think we were give a leaflet.  It was a blur.  There was so much to try and take in at the worst possible time.
I remember feeling numb. Normally I would be researching everything, proactively gathering all the detail.  But this was different.  It was shocking to be told there is no cure.  At just 68 years of age, it took away the retirement he and his beloved partner Kath should have been enjoying.  He could no longer drive, his car had been his pride and joy.
Yet Dad was so pragmatic in the face of it all.  "You have to just play the cards you've been dealt," he commented.  I burned with the unfairness of it.  It wasn't as if it was his first brush with cancer.  He had been battling prostate cancer the previous two years and side effects of having his prostate removed.  We asked the consultant if the two were linked. "No," he replied solemnly, "we think you have just been very unlucky, Mr Wootton."
As the dust settled and a date was given for the surgery, I felt ready to access support for us as a family but didn't know where to go.  I felt lost.  If only we had known about Brainstrust!
On the day of surgery at Birmingham QE hospital, the surgeon told Dad he could go for the 'play it safe' option where they only remove the tumour from areas that are not risking any key brain functions.  Or there was the high-risk strategy to remove it all no matter what.  Or, a middle ground where they take as much as they can but leave the riskiest areas alone. "As long as I'm still Paul Wootton when I wake up, I don't mind" Dad replied with a courageous smile. The middle option was chosen.
After a successful operation came the radiotherapy and chemotherapy.  A gruelling regime, every day for six weeks.  I remember he rang the bell to signify the end of his treatment and that was quite an emotional moment, but he was too exhausted to truly appreciate the milestone.  Following the treatment, I remember Dad felt tiredness like he'd never known.  He would fall asleep at the drop of a hat.  And talking about hats…he would always wear a woolly one (even indoors) as the skin on the top of his head was very sensitive after the operation.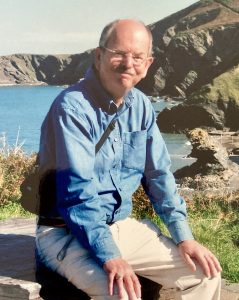 There was relief when their everyday life stopped revolving around the daily trips to hospital.  It was replaced by two monthly scans, the build up to them and the anxious wait for results.  But Dad and Kath were determined to get out and about as much as they could, even if it was a little trip to the local garden centre or a café.  Just getting outside gave Dad such a lift and sense of achievement. They were determined to not be completely controlled by Dad's illness and medical appointments and I believe that positive mindset helped them through.
Each scan showed the tumour was stable – and so it stayed for over 3 years.  The treatment had certainly done its job in giving us more time together.  However, his mobility got progressively worse, a stick was replaced by a walking frame and eventually he needed someone to be with him by his frame as co-ordinating his foot movements on the most affected side became very difficult.  His balance was badly affected and due to the location of the tumour, his eyesight got steadily worse such that he found it hard to read even large print and deal with different levels of light.  But he was still with us.
Then COVID hit and we could no longer go and visit. Time with Dad felt more precious than ever so the frustration of having to rely on phone calls and Facetime for months on end was immense.  When lockdown eased it was like the most precious gift.  He fought bravely for an incredible 4 years after his diagnosis – until blood clots on his lungs and pneumonia finally brought his battle to an end.
It was only then I discovered Brainstrust as I was looking for a suitable charity to request funeral donations for.  I read about the coaching/counselling they offer, the Brainboxes, the supportive events and chance to meet others in a similar position and feel resourced.  I realised this was the type of support I had been looking for earlier in Dad's journey. I knew I had to do something to raise funds for Brainstrust, but also raise awareness of what they offer and promote the importance of patients being able to easily access this information when they need it.
I know Dad would have very much approved of the approach Brainstrust take with supporting people and their families.  He was one of life's carers, a 'people person' by nature and I wish he and Kath could have benefitted from the coaching and meet-ups Brainstrust organise.  He would have wanted to make a difference to others even after his passing, especially those living with a Brain Tumour. So I decided to make it happen for him.
Running 33K…1 kilometre for every person who (on average) is diagnosed with a brain tumour every day. 
33K equates to 20 miles, so I found a race of that distance around Eton Dorney lake, venue of the 2012 Olympic Games rowing.  I had never run that far before in my life.  I had done a couple of half marathons but this was taking it to another level.  Training would be hard but I felt the motivation of raising money to help families benefit from Brainstrust support would see me through.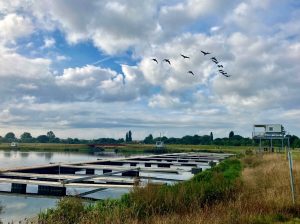 So… I arrived at Eton Dorney early on a bright September Sunday morning.  The venue was awesome.  The lake was still, flocks of geese flew majestically overhead in their 'red arrows' formations, Windsor castle was visible in the distance and the stillness was broken by planes taking off from nearby Heathrow.  Each lap was 4 miles, so I had 5 of them to tackle.
By the fourth lap my legs were groaning and the warm sunny weather wasn't the blessing it seemed at 08:30, with little shade. A blister was brewing nicely on my big toe.  When the going got tough, I took inspiration from the courage that Dad, and all those 55,000 other people in the UK living with a brain tumour, show every day.  By mile 19 I knew I was nearly there and as I crossed the finish line and received my medal a range of emotions flooded through me.  I looked up to the sky, I felt I had done Dad proud which meant so much.  Most of all, I felt humble for the wonderfully generous support I had received with sponsorship on my Just-Giving page.  'My' pain had only been temporary…
My takeaway from all this? To make the most of every day, seek out more of those little things that brighten our world and never put off until tomorrow what you can do today.  I have had wonderful support from Jodie at Brainstrust and I intend to help by volunteering some time to spread the word.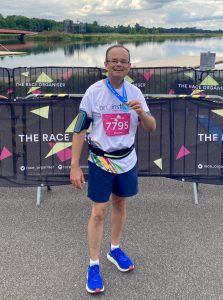 I miss Dad so much, but discovering Brainstrust, albeit belatedly, has been a much-needed source of comfort and focus to help others.
You can find out more about Ian's fundraising here.