Cup of Tea Puddings
All this week we've been sharing recipes for you to make at your TEAFEST parties, and we've saved the best 'till last. Our celebration of the good ol' British cuppa for brain tumour support begins on Monday and, since we know you all love drinking tea, we thought we'd give you a chance to eat it too.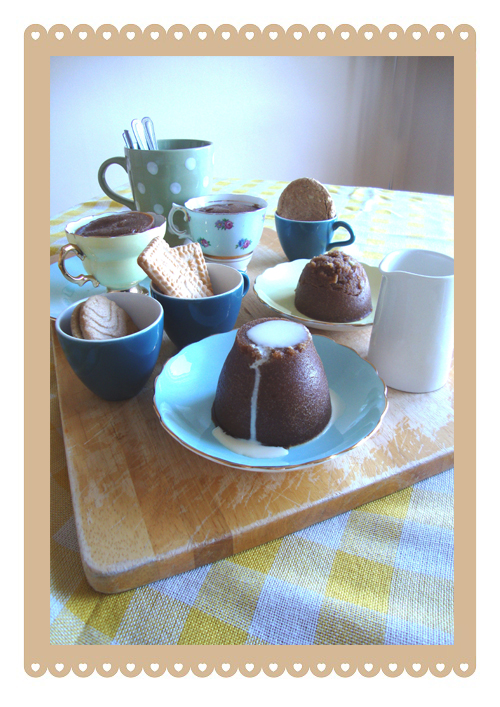 Making some of these puddings for your guests is a sure fire way of getting a few quid in brainstrust's pot, because that's what TEAFEST is all about. It's fundraising that is easy peasy teabag-squeezy, but most importantly, it will help us build a support service for the 60,000 people in the UK living with a terrifying brain tumour diagnosis. So put the kettle on, sign up and dream about eating these puddings today.
4 English tea bags
150g sugar
150g butter, room temperature
2 eggs, room temperature
175g flour
Begin by infusing the tea bags in a mug boiling water, around 250mls. Cream the butter and sugar until light and fluffy then alternate beating in the eggs and adding the flour until you have a thick batter. Add the tea mixture to the batter, squeezing each bag dry with a spoon to get the density of flavour, and then mix well.
Transfer the mixture into 4 mini plastic pudding bowls which has been wrapped in tin foil on the outside. Alternatively you could steam them in tea cups or mugs. Cover the top of the bowls /cups with tin foil and secure with an elastic band.
Place into a pan used for steaming or alternatively a deep pan filled around a third of the way up with boiling water, using an upside down bowl above the water level for the puddings to stand on. Cover with a lid and steam for 1 hour on a low heat, topping up when necessary.
The puddings are cooked when they feel firm to touch. If plastic bowls were used you could then serve the pudding inside a cup before turning out onto a small plate and serving with cream; a dessert alternative to a good cream tea.
If cake and tea is your thing, and you want to make a real difference to the lives of those living with a brain tumour in the UK, then you can still register for TEAFEST.
Simply fill out the form below and us know what your doing by sending an email to lula@brainstrust.org.uk