Our Shop's Had a Makeover
We're really excited to be announcing that our brainstrust shop has had a makeover, it's now fully refreshed and looking fabulous! Selling merchandise is an important part of our fundraising helping us raise vital funds. Getting out and about in the world with brainstrust merchandise on also helps raise awareness of us as a charity – you never know when it might spark a conversation.
The Shoot Day
On a grey Monday in April, we headed over to the University of Huddersfield on a mission to add a bit of colour to our brainstrust shop.
Three brilliant final year student photographers from the Photography BA course signed up to help us shoot all our merchandise. We arrived alongside our model, Michelle, and the students quickly got to work setting up the shoot. It was all hands-on deck ironing our stock ready for Michelle to get in front of the camera.
Michelle and the student photographers were amazing and soon flew through our branded clothing – they even roped the brainstrust team into some modelling!
Our wristbands, water bottles and other accessories got their moment in the limelight too with a special stock photo shoot going on alongside the model shoot.
It was a great day out with lots of giggles and some great results for our shop. But most importantly we are now able to showcase our merchandise with a member of the brain tumour community, so when people come to our store they see not just what we have to sell, but who we are selling it for.
Meet Our brainstrust Model, Michelle
Michelle is a member of the brainstrust community who very kindly came along to model our merch. We've spoken to Michelle about the shoot, and what it means to her to be involved in brainstrust.
Could you start by telling us a bit about yourself and how you became a part of the brainstrust community?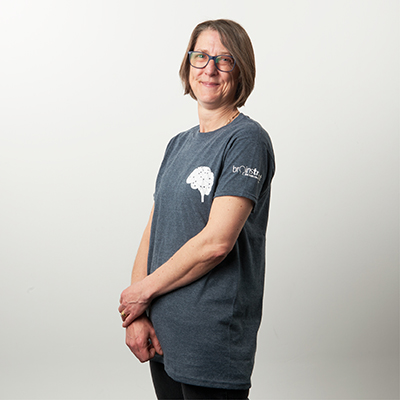 I'd never heard of a Meningioma before I was diagnosed in 2016. From then on, I had an annual MRI scan, after time spent on 'watch and wait' I went in for surgery in 2020. While the doctor was in there, he thought oh we'll have a bit of a party and removed 4! Right now, I'm waiting for the second surgery.
It was during this time that I found brainstrust. At the time you get diagnosed you start to research but try and avoid google. brainstrust was one of the ones I came across. I liked that it was smaller and more local, it felt more personal.
I get the brainstrust newsletter to find out about research and information. There's just that confidence of knowing that if you needed to go and find something, you've got a port of call. And the newsletters make you think of things that you may have seen and forgotten about, or never thought of before.
When you saw our call out for models, what made you sign up and come along?
I nearly didn't at one point! It was an impulsive, spur of the moment thing. I've never done owt like that before! It's not like me, normally I plan meticulously, but because I haven't worked for a couple of year I've been sat in limbo, so I though oh why not!
For a while I thought 'what the hell have I done', but it was locally enough for me to get involved without relying on someone else. I've got the opportunity to help, it's something different, why not!
Plus, me being a model for the shop is an important part of raising awareness around meningioma's. When people think of brain tumours, it's the C word, it's cancer. It's not always just that. You can have brain tumours that are not cancerous and still have the same treatments, the same effects. A lot of people don't realise that. It's more common than people think, we need to raise awareness of this.
Getting out there, it's helped me give back, we all have a role to play.
You seemed like a natural to us, but how did you find the shoot day yourself?
I was expecting formality, but actually although it was professional it was also informal and relaxed. We got to chat like we'd met loads of times before.
And the students were so organised, they were so good! I enjoyed it.
Do you have a favourite item from our store?
The beanie hat. You get pom pom hats, and you can't get your hood up. The beanie just sits there nice.
And the grey t-shirt… I like them… grey hoodie, I like them… I just like grey actually!
Plus the clothes are really great quality, you can't always tell when you're ordering online, but it's all great quality.
Thanks so much to Michelle for coming along to model for us. It's important to us that our shop reflected the community we support, having Michelle as the face of our shop means that whenever someone comes to our store, they see the real brainstrust community.