Come to our next Meet Up – Cream Teas in Winchester, 22nd August, from 16.30.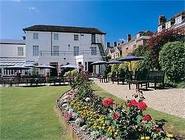 This should be good! For our next Meet Up there's a gang of us, with some new faces to the brain tumour community, meeting for cream teas (and maybe a Pimms or two) at The Winchester Royal Hotel. Free to members of the brain tumour community, anyone with an interest in learning more about what we do and sharing their experiences is welcome to join us.
Not much more to it really – Cream teas on us in Winchester, and a chance to meet some new faces from our wonderful community. Join us at The Winchester Royal Hotel. If the sun shines (and it always does for brainstrust events) we'll be in the Rose Garden. And if not – in the Hampshire Room. And then maybe afterwards in the Bar . . .
Just click here and let us know you're coming!

About brainstrust Meet Ups

brainstrust Meet Ups aren't brain tumour support groups as such. There won't be a counsellor on hand. By all means you can share information and find mutual support if you want, but the primary objective will be to say 'hi' and have some fun.
At brainstrust we know that people don't just have a brain tumour at 7 on a Thursday evening, and whether you have a brain tumour, are helping someone who is poorly, or have helped someone in the past, not everyone wants to talk about what they're going through in the same way.
These are a couple of reasons why we don't run support groups. Instead we are always on hand to offer personalised advice over the phone, by email, and face-to-face 24/7, 7 days a week.

Interested in our Meet Ups? Then click here and register… there'll be one near you soon.