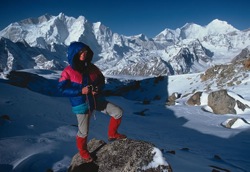 Stephen Venables, the mountaineer, writer, broadcaster and public speaker, has agreed to become the latest patron of brainstrust. Our director Helen said:
We are delighted to welcome Stephen Venables on board as a trust patron. Sadly, his eldest son, who had autism, died from a brain tumour and he wrote a touching best-selling book, Ollie.

Stephen is passionate about promoting public understanding of the need to do more to provide solutions for people with brain tumours and is very keen to do an after-dinner tour.
Stephen Venables was the first Briton to climb Everest without supplementary oxygen, reaching the summit alone by a new route. He has climbed successfully for over 40 years, with many first ascents of previously unknown mountains to his name. www.stephenvenables.com
Stephen has become brainstrust's fifth Patron, joining Professor Peter Black MD PhD, Professor of Neurosurgery at Harvard Medical School and rated as one of the top ten doctors in the USA; Andrew McEvoy FRCS, a leading brain tumour Consultant Surgeon at the National Hospital for Neurology and Neurosurgery in London; Paul Grundy FRCS, a brain tumour Consultant Surgeon at the Wessex Neurological Unit in Southampton and former BBC newsreader, Jan Leeming.