Helping you talk about death

This Dying Matters Week (10-16 May), Hospice UK are starting the conversation so that people can be #InAGoodPlace before they die.
Are you #InAGoodPlace to die? It's not a question we often ask or even think about, but it matters. There is no right or wrong place to die; it will be different for everyone. But it is important to think about it, talk about it, plan for it.
The difference it makes
Carol, our support specialist for Scotland, reflects on how important talking about death was when her dad was diagnosed with a brain tumour:
'How we die lives on in the memory of those left behind' – Dame Cicely Saunders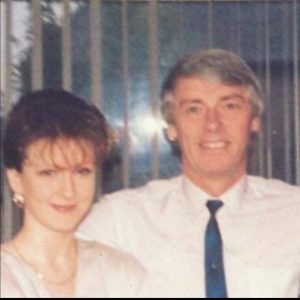 "Death is the great one certainty for us all, yet it's still such a taboo subject. It's so important to be having conversations about it as it alleviates the fear. It gives the opportunity to make sure you know the dying person's wishes are met, but it's more than that.
When my Dad was diagnosed with a glioblastoma we used it as an opportunity not just to ensure his end of life care wishes were met (he wanted to die at home), but to use the time to make precious memories as a family with the time we had left, as we knew time was such a precious commodity.
Knowing we did this helped greatly after Dad died – knowing we had those conversations, nothing was left unsaid and we had a treasure trove of memories made.
If you're not sure where to start reach out to brainstrust as we can help."
Knowing what to expect
We can help ourselves feel less afraid of what's to come by accessing information. Being prepared means we can put 'what if' questions behind us and be more present in the moments that we still have together.
Our Patient Guides cover key touchpoints in the brain tumour journey. For practical information about what to expect at the end of life, download our End of Life Care Guide. If you have any questions, please get in touch: call 01983 292 405 or email hello@brainstrust.org.uk
Difficult conversations
Talking about death is scary, but doing so can be empowering, liberating and allow you to focus on what matters most. Find out how we can help you start conversations around end of life care, so are #InAGoodPlace, and able to make the most of the time you have left.
Our Difficult Conversations resource will help you to discuss this topic with your loved ones. Our support specialists can help here too – get in touch to find out how we can assist you to feel comfortable talking about this topic.
Download the Difficult Conversations guide here.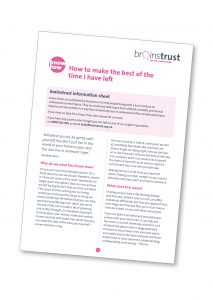 Making the most of the time you have left
Time is precious – and something none of us are guaranteed. When we know that our time is limited, it can help to really focus on the things that bring us joy. That is why we produced a Know How on how to make the best of the time you have left.
It provides guidance to help you find out what things matter most to you, and tips to help you focus on them. Download the Know How here.
Please get in touch to find out how we can support you to be #InAGoodPlace.