An evening of hilarious comedy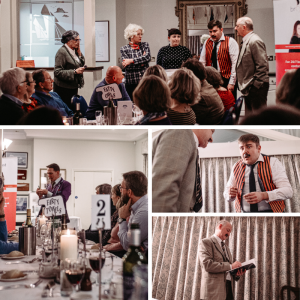 A barrel of laughs was had on Saturday as residents from across the Isle of Wight enjoyed an evening of comedy with Basil, Sybil, Manuel and guests.  RedTIE Theatre performed one of their most popular shows, Fawlty Towers.
We all enjoyed a night of laugh out loud comedy, ridiculous slapstick humour and good food. As Manuel and Basil tried to conceal a bet on the horses from Sybil, it seemed the guests and some unfortunate events drove Basil to resort to desperate measures…
Hux added some magic dust to the bubbles that got everyone in the party mood at the beginning of the evening. By the time the auction and raffle arrived people were only too ready to dig deep to make a big difference to our brain tumour community. A huge thank you to everyone who attended, and made this event such a huge success. An amazing £2,400.00 was raised, and a good time was had by all.
Special thanks to…
– Ken Beken and Sue Field who made this event happen
– Brian Howard for being a steely auctioneer
– Catherine Fitton for her fabulous design input
– The incredible RedTIE Theatre cast and crew
– Staff at the Royal Ocean Racing Club
– Businesses and individuals who kindly donated an auction or raffle prize
– Hux the magician