A workshop for people with a brain tumour, caregivers and healthcare professionals
Following the success of the last brain tumour wellbeing event at Cliveden house, you can join us for more! This workshop is for people with a brain tumour, caregivers, healthcare professionals or anyone with an interest in brain tumours.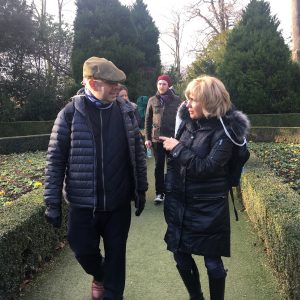 The programme
The programme for these events is holistic and always carefully designed to help you to feel less isolated as you meet other people living with a brain tumour and cancer care professionals who will be sharing first hand experiences and ideas. The workshop will help you as a patient or carer to understand brain tumour care and treatment and ultimately help you to improve your well-being and understanding of brain tumours and your options.
Expect content and discussion on topics such as:
Immuntherapy trials
The research landscape
Brain tumour data
Nutrition
Exercise
Relaxation
View the event programme here.
Lunch, and tea coffee are provided. There will be opportunities for time out, to enjoy the stunning backdrop of Cliveden House and its gardens, and really reflect on what is most important to you on your brain tumour journey.
Supporters
This event is part of a series of events that we have developed collaboratively with Pablo Lievano and Greg Gerrard as part of their 'Patient Journey' project. It is possible because of their generous support, the support of Siemens Healthineers, presenting clinicians, experts and organisations and the support of Cliveden House.

Click here for more information and to get your tickets.
If you have any questions about the day just drop us an email to hello@brainstrust.org.uk. We hope to see you there.