A day out for children and families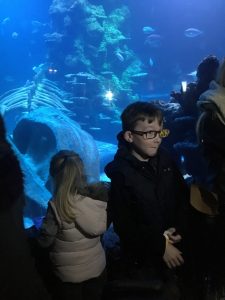 Last month, in the hustle and bustle of London, Little brainstrust organised a fun day for families affected by a brain tumour diagnosis at sea life aquarium.
The aim of the day out was to give the children and adults the opportunity of a break, free from the stress of a hospital, for a couple of hours to enjoy exploring the aquarium and meet other families.
"We went just before Halloween, so the aquarium had an extra spooky factor – especially when we went on a sea life treasure hunt. There was lots to do: we cooked up some potions with a mermaid witch and watched out for our favourite animals like a turtles, penguins and jelly fish. We weren't so keen on the sharks, so we quickly zoomed passed those!"
A well-deserved break
"I had an amazing day finding nemo and his friends but also listening to stories from the children. And I look forward to organising more family fun days for more people to join us." Khadijha, Support Specialist for Children and Families with Little brainstrust.
We know the challenges you face when living with a brain tumour, and sometimes just being in a space with others that know can help us feel a little less alone, a little more resilient and more able to face the trials that seem to do their best to throw us off track.
Get in touch with Khadijha so she can let you know about future events organised by Little brainstrust.