We know that when someone you love is diagnosed with a brain tumour, things can quickly spiral and change like the tide. Any sense of control that
you

 may have once had over daily life can disappear and become replaced by feeling anxious, uncertain and overwhelmed.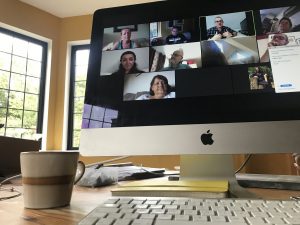 So we're hosting a fortnightly virtual meetup, just for carers, so you can connect to people that understand, ask your questions and be heard in a safe, friendly and welcoming space.
So come and chat – no agendas. Just pop in to say hello! Fortnightly on Thursdays, 1pm-2pm.
These webinars are a little different to those you may have attended previously! They are deliberately kept to small numbers, so that everybody can make the most of the experience by interacting with each other and asking questions (although there is no pressure to share, and if you would like to keep your camera or microphone turned off that is fine). If you sign up but can't attend, please do let us know so that we can offer the place to someone else.
To get a link for the Zoom call, please sign up on Eventbrite.
Not sure how to sign up for a webinar? We've got a Know How to walk you through it.